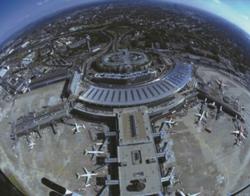 With all gates in one terminal building, Düsseldorf International is the "airport of short distances" – guaranteeing minimum connection times of 35 minutes.
Düsseldorf, Germany (PRWEB) October 05, 2011
Düsseldorf International Airport (DUS) keeps breaking its own records for passenger numbers, and this year's summer season was no exception. On July 22, 730 airplanes with a total of 76,000 passengers took off and landed at DUS – compared to an average 590 movements and 52,000 passenger per day, and during the summer holiday season, from July 22 to September 6, 3.1 million passengers were recorded, a whopping 4.4% increase compared to 2010 and top among German airports.
The numbers reflect two important developments at DUS: The planes are bigger and/or carry more passengers (the 4.4%increase in passenger numbers corresponds to an increase of flight movements by only 1.6%), and the airport's investments in its function as a hub are paying off. The airport has spent € 200 Million in the past few years to improve hub-related technology and infrastructure, such as baggage handling and passage ways between gates. Additional related improvements are planned, among them a new connection between terminals A and B.
DUS is becoming increasingly well suited for long-haul transcontinental flights, as their importance for the airport's business grows. The US and Dubai continued to be among the favorite destinations for passengers in 2011, and DUS will also develop more routes to other continents, including the US and the Far East.
In League with New York, London, Paris and More
Adding to Düsseldorf's appeal, several US & Canadian cities (Atlanta, Chicago, Ft. Myers, Los Angeles, Miami, New York, Newark, San Francisco, Toronto, Vancouver) offer non-stop flights. Passengers who continue their journeys can choose from numerous convenient connections to Berlin, Munich, Frankfurt, Hamburg and many other German and European cities. All together, 70 airlines serve 180 destinations worldwide – among them 125 European destinations. Another major advantage of the airport is its layout. With all gates in one terminal building, Düsseldorf International is the "airport of short distances" – guaranteeing minimum connection times of 35 minutes.
The airport is at the center of the Rhine Ruhr area, a bustling network of 53 connected cities and 18 million residents within 40 miles. It is the EU's third largest market in volume and spending and equal to major metropolitan regions like New York, London and Paris. 500,000 companies are located in the area, including 5,000 offices of foreign corporations, the majority from the Netherlands, Japan and the USA. Many major international industry players, including Fujifilm Europe, Nokia Siemens, Novell, Ericsson, Deloitte & Touche, McKinsey, and Toshiba, are headquartered in Düsseldorf, which is a first-rate location for high-tech concerns. International presence and fast accessibility – guaranteed by DUS being one of Germany's major hubs – make the location highly attractive.
Düsseldorf and North Rhine-Westphalia, ranked 17 in GDP among the world's major industrial centers, are also home to some of the most significant exhibitions and trade shows in the world. Of the 50 annual events at Düsseldorf's Exhibition Center, 23 lead their industry worldwide, for example, printing technology ("drupa"), plastics and rubber ("K"), medicine ("MEDICA" and "REHACARE INTERNATIONAL"), leisure time ("boot") or packaging ("interpack").
For more information on Düsseldorf International Airport, visit http://www.fly2dus.com
Düsseldorf Tourism & Marketing GmbH is the visitors and convention bureau of the city of Düsseldorf. Its services include tourism and city marketing, conference and meeting marketing, hotel reservation services, fairs and convention services, city event ticket sales and advance ticket reservations. For more information, visit http://www.visitduesseldorf.de.
###