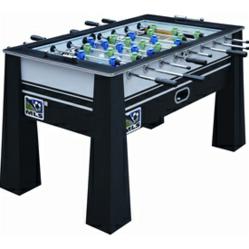 We want our customers to make the most of the winter months at home
San Mateo, CA (PRWEB) October 09, 2011
With only a few weeks left before the winter season arrives, Backyard Ocean, an online retailer for above ground pools and pool supplies, announces the release of a new line of indoor games and home sauna products. Ideal for both children and adults, these recreational games are currently on sale at up to 40% off.
"We want our customers to make the most of the winter months at home. Although children cannot go outside to play, they can still have fun playing one of Backyard Ocean's classic indoor games. By the same token, families can enjoy some downtime bonding with each other over these games, which we have all grown to love," says Sasha Jacobs, spokesperson for Backyard Ocean.
Backyard Ocean showcases an impressive collection of recreational games from air hockey to foosball. Children can shoot hoops inside the home or garage with Backyard Ocean's indoor basketball game. Adults can put their dart skills to the test with a wood dart cabinet set, which is currently on sale, or perfect their billiard techniques on quality pool tables. With compact and easy-to-store game tables, these recreational games are convenient, and provide year-round fun.
Those seeking relaxation at home can immerse themselves in the soothing and pulsating waters of a portable spa. Backyard Ocean offers both an inflatable hot tub and portable spa options.
In a similar fashion, the home sauna from Backyard Ocean can offer a relaxing experience, but no health claims can be made. A November 2005 Mens' Health Watch article from Harvard Medical School states that home saunas appear safe to use, but report no other health benefits to the body.
"Since many have already have closed their pools for the winter season, a great alternative to an invigorating swim would be to relax in a home sauna or a portable spa. The idea of not having to leave your home and spending hundreds of dollars on spa services is also a great incentive," explains Jacobs.
For more information about Backyard Ocean's latest offering, visit http://www.backyardocean.com.
About Backyard Ocean:
BackyardOcean.com is an online retailer for above ground pools and pool supplies. With their wide selection of pools and pool accessories ranging from large ring pools to pool toys, BackyardOcean.com is dedicated to bringing the summer fun of the beach to the backyard.
###