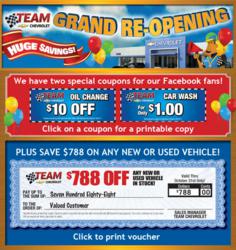 Valparaiso, IN (PRWEB) October 09, 2011
If bigger truly is "better," then Valaparaiso's Team Chevrolet is capitalizing on its good fortune with a giant Grand Re-Opening celebration during the month of October. The month-long event caps off a $1.5 million renovation that began in April of this year. In addition to a new storefront will be a larger customer waiting lounge, coffee bar and Wi-Fi lounge with netbooks available for use while waiting.
Giveaways throughout the event will include a Barnes & Noble Nook reader, a 42" LCD HDTV, and Apple iPad generation 2 in black. Porter County's Team Chevrolet also is offering $10 off oil changes on any GM vehicle (with up to 5 quarts of oil), $1 Bronze level car washes, and 10₵ hot dogs and ice cream sandwiches on Fridays and Saturdays.
On Thursday, October 20th, from 4:30-7:30pm, a special one-day celebration will take place with refreshments, hors d'oeuvres and ice cream treats. There will also be live entertainment that includes steel drums and island sounds, featuring Kent Arnsbarger.
Team Chevy opened its doors on August 1, 2000. The dealership was purchased from Hal Huering Chevrolet-Cadillac who built the facility in 1986. Team Chevrolet is currently part of Team Auto Stores of Northwest Indiana and Gurley Leep Automotive, South Bend, IN, and is owned and operated by Mike Leep, Mike Rudolph and Van Gurley, Sr.
Team Chevy has always been active in the community, supporting different churches, families and charities throughout Porter County. It currently sponsors the Valparaiso Parks Department's Little League program and is a top supporter of The March of Dimes. During the winter of 2010, the dealership partnered with Housing Opportunities, donating money for each new car sold to help local homeowners avoid foreclosure. Team Chevrolet's sales and service departments have been honored many times throughout the years with customer satisfaction and consumer choice awards.
Team Chevy has sold over 8,000 cars since its opening in August 2000 and services an average of 600 vehicles a month. The dealership is located at 1856 W. US 30. For more information about the Grand Re-opening, customers can call 219-462-1175 or visit online at http://www.chevyon30.com.
###