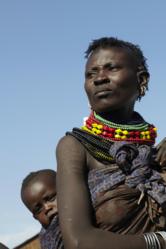 "Aussies have a long tradition of shouting their mates, and we hope on World Food Day they can shout some of the people caught up in the worst food crisis of the 21st century," Mr Hewett said.
(PRWEB) October 05, 2011
Australian food personalities from around the country including Julie Goodwin, Andrew McConnell and Mark Jensen are supporting Oxfam's Shout the Horn, a new national fundraising initiative launched in response to the food crisis in the Horn of Africa where 13 million people are at risk of starvation.
Sunday October 16 is World Food Day and Oxfam Australia is asking Australians to dine at a participating restaurant and 'shout' the cost of an extra meal and make a donation to Oxfam Australia's East Africa appeal.
And with the announcement today by Foreign Minister Kevin Rudd that between now and 30 November the Australian Government with will match any public donations to the East Africa famine dollar for dollar, there's double the reason to get involved.
Oxfam Australia Executive Director Andrew Hewett said World Food Day offered Australians a moment to share a meal with friends and family and offer a helping hand to others around the world.
"Today's announcement by Kevin Rudd that the Government will match public donations means any money you give will go even further towards helping those caught up in the worst food crisis of the 21st century," Mr Hewett said.
"Aussies have a long tradition of shouting their mates. Now's a chance to Shout the Horn and make twice the impact," he added.
Melbourne's Cumulus Inc. was one of the first restaurants to register for Shout the Horn and head chef Andrew McConnell said they are delighted to work with Oxfam on the campaign.
"Oxfam Australia is responding to the unfolding humanitarian crisis in East Africa and the response from the appeal will include life-saving aid, as well as providing long-term strategies to deal with the impact of severe and frequent droughts on the lives of people and communities," Mr McConnell said.
As well as dining out at participating restaurant, Oxfam is also encouraging people to host their own Shout the Horn dinner parties on Sunday October 16 and make a donation to Oxfam's East Africa appeal.
Oxfam is on the ground in several affected regions in the Horn of Africa and with its local partners is already reaching 2 million people with emergency relief, including clean water, food and basic sanitation, and plans to reach at least 3 million of those affected.
Parts of the region are suffering the driest year in 60 years and Oxfam is also helping to build the longer-term resilience of communities by helping them to adapt to the increased challenges of more extreme weather events.
To get involved and support Shout the Horn:
View the list of participating restaurants at http://www.oxfam.org.au/act/events/shout-the-horn/participating-restaurants
Register as a restaurant at http://www.oxfam.org.au/shoutthehorn
Make a donation today at https://www.oxfam.org.au/donate/current-appeals/shout-the-horn
Or for more information on the unfolding crisis visit Oxfam's East Africa food crisis page.
Quotes from eight Shout the Horn chef supporters from around the country have been provided below. To download images of them and other Shout the Horn media images visit: http://wordsandpictures.oxfam.org.au/?c=10662&k=403a13bab7.
Julie Goodwin
Sydney-based Julie Goodwin, winner of Australia's first MasterChef winner and author of Our Family Table: "Across the Horn of Africa, 12 million people are at risk of hunger. Some areas of Southern Somalia have already been declared a famine, making this the first famine of the 21st century.
"But it doesn't have to be like this which is why I'm encouraging you to Shout the Horn on World Food Day Sunday October 16.
"By sharing a meal with friends and family and making a donation, you can help Oxfam provide life-saving aid to people in the Horn of Africa and find long-term solutions to ensure that people in developing countries have enough to eat always."
Mark Jensen
Sydney-based Mark Jensen, co-head chef at Sydney's Red Lantern and author of The Urban Cook – Cooking and Eating for a Sustainable Future:
"In countries including Somalia, Kenya and Ethiopia, people are experiencing desperate food shortages and in some places are suffering from famine.
"Oxfam is already reaching more than 1 million people in the region, and is hoping to reach more than 3.5 million people affected by the food crisis. But they need support to do so.
"I'm joining Oxfam and asking you to Shout the Horn on Sunday October 16, by sharing a meal or dining out at a participating restaurant and making a donation to help Oxfam respond to this devastating food crisis in the Horn of Africa."
Tony Twitchett
Melbourne-based Tony Twitchett is the head-chef at Melbourne's Taxi:
"Across the Horn of Africa there are 12 million people facing starvation due to the worst drought in 60 years. At Taxi we spend all day and night serving up the best possible food to our diners. Such contrasting circumstances can be confronting but I'm so glad there's something we can do to help. "Oxfam is calling on Australians to contribute to provide 3 million people with life-saving water, basic sanitation and food. You can help me and Oxfam help others when you 'Shout the Horn' on Sunday October 16, by sharing a meal or dining at a participating restaurant and making a donation to help the devastating food crisis in the Horn of Africa."
Dominique Rizzo
Brisbane-based Dominique Rizzo from Channel 10's 'Ready Steady Cook' and author of Sicilian Food Tours: "One of my favourite sayings is "through the sharing of food we share life and no one is never lonely or hungry". "This World Food Day, we can make that a reality for millions of people in the Horn of Africa who are at risk of hunger following the worst drought in 60 years. "I'm joining Oxfam and asking you to 'Shout the Horn' on Sunday October 16, by sharing a meal or dining out at a participating restaurant and making a donation to help Oxfam respond to the devastating food crisis in the Horn of Africa."
Simon Bryant
Adelaide-based Simon Bryant is the Former Executive Chef of the Hilton Adelaide and presenter of the ABC's 'the Cook and the Chef':
"On Sunday October 16 you have the opportunity to do something important.
"The drought in the horn of Africa has drastically affected food supplies for around 13 million people. In sheer numbers that's the equivalent of half the population of Australia facing life threatening food shortages, it is not something you can just ignore.
"Find a participating 'Shout the horn' restaurant for dinner that night, tell a friend to help or just go without something for the day and donate the equivalent value to Oxfam; you will sleep a little bit straighter that night knowing you have done your bit."
Guy Jeffreys
WA-based Guy Jeffreys is the head chef at Millbrook Winery: "I can't begin to imagine watching my children die from starvation in front of me, and not be able to do anything about it.
"In Australia we are spoilt by wealth and an abundance of fresh produce. The good news is we can help, by sharing some food on Sunday the 16th of October, and supporting Oxfam to shout the horn."
Andrew Blake
Melbourne-based Andrew Blake has over 30 years experience running restaurants in Melbourne and currently operates Blake's Feast catering:
"I hate being hungry, but at least I know that my next meal isn't far away. It would be unimaginable therefore to not know where my next meal is coming from, but that is the dire situation that 13 million East Africans are facing.
"Your contribution will help provide 3 million desperate people with some of the basic things we take for granted; food, water & sanitation."
Robert Molines
Hunter Valley-based Robert Molines, is the head chef at Bistro Molines:
"The world has become wasteful with food weekly and we seem to forget that there are so many people starving of all age groups including children.
"We must never take anything for granted as we have experienced disasters with fatal and sad stories. Oxfam is the driving connection between us and the starving people, they need our support."
###