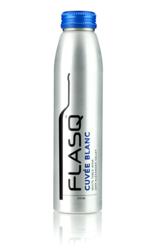 Responding to the growing popularity of sweeter wines, particularly the coined 'Moscato Madness,' Cuvée Blanc is an easy drinking wine with attractive varietal-specific complexity and rich flavor. -- Tim McDonald, co-founder and CEO of JT Wines
St. Helena, Napa Valley, CA (PRWEB) October 05, 2011
Launching this week, FLASQ Wines announces its latest blend packaged in its signature quick-chilling, aluminum bottles– Cuvée Blanc. Created by St. Helena, Calif.-based, JT Wines, the FLASQ Cuvée Blanc hails from Sonoma County's famed Alexander Valley.
Consisting of 80% Sauvignon Blanc, 19% Viognier and 1% Moscato, Cuvée Blanc reveals tropical and light floral notes featuring ripe peaches and apricots, while also boasting a slight effervescence. "We are delighted with the new Cuvée Blanc," said Tim McDonald, co-founder and CEO of JT Wines. "Aficionados of Alexander Valley have been pleased with the blend's light sweetness, and the reaction from our Millennial fans has been nothing short of sensational. Responding to the growing popularity of sweeter wines across the country, particularly the coined 'Moscato Madness,' Cuvée Blanc is an easy drinking wine with attractive varietal-specific complexity and rich flavor for which our customers have been asking."
Known as Great Wine, Any Time, FLASQ is the first U.S. wine to be packaged in 100% recyclable and quick-chilling aluminum bottles. It appeals predominantly to drinking-age Millennials and Gen Xers with active lifestyles – from hiking and tailgating to boating and golf (or less recreational activities like lounging by the pool or at the bar with friends) – who desire a modern design, convenient and portable packaging, and an environmentally-responsible product.
"Interest in FLASQ is buzzing," continued McDonald. "Wine shops, bars, resorts and grocery stores in over 30 states are now carrying our wines. Spectators have also enjoyed FLASQ at Infineon Raceway during elite NASCAR and INDYCAR events, as well as at the San Francisco Giant's AT&T Park."
Compared to glass and plastic, what are the benefits to bottling wine in aluminum? There are many advantages, whether for the convenience of the wine drinker or the merchant:
--FLASQ is American-made from the beginning (the grape) to the end (cardboard boxes) of production
--The bottle is comprised of 99.7% aluminum
--Bottles (375ml) offer two generous glasses of wine
--Chills five times faster than glass bottles, and stays cold longer
--Shatter-proof packaging
--Compared to glass bottles, the carbon footprint is reduced by 35% due to lighter case weight during shipping
--Taste is preserved from barrel to consumption. Bottles are lined to prevent contact with wine and aluminum
--Non-transparent packaging prevents "light-shock"
--Wide mouth, aluminum screw cap opening allows additional aeration when drinking from the container; prevents oxidation and maintains freshness
In January, FLASQ Wines was launched featuring Chardonnay and Merlot varietals from California's prominent Monterey and San Luis Obispo counties. Today, Cuvée Blanc joins the popular family of wines, which generally sell for $6.99 per bottle (varies by market).
About FLASQ Wines
Created by JT Wines of St. Helena, Calif., FLASQ Wines is the first line of domestic wines packaged in 100% recyclable and quick-chilling, 375ml aluminum bottles. With Chardonnay, Merlot and Cuvée Blanc varietals hailing from California's renowned wine regions, FLASQ offers a convenient, socially responsible and fun approach to the enjoyment of wine. It's Great Wine, Any Time. For information or online purchases, please visit http://www.FLASQwines.com. FLASQ Wines can also be found on Facebook and Twitter (@FLASQwines).
###