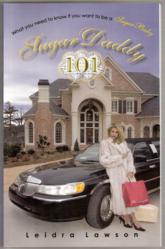 Lawson says "Just like Suze Orman advises people to save money and plan for the future, I'm teaching young sugar babies the same thing."
Atlanta, GA (PRWEB) October 10, 2011
Leidra Lawson, author of Sugar Daddy 101 and founding mother of the sugar daddy lifestyle movement, announces her 1st Annual Sugar Baby Savings and Entrepreneurship National Workshop Tour. Workshops will take place in major cities across the United States. It kicks off in Atlanta and will continue in: Miami, Chicago, New York, Los Angeles, starting Oct. 4, 2011. Workshops will take place at various venues and via Skype. The cost ranges: $79 to $200.
The Sugar Baby Savings and Entrepreneurship Workshop will focus on:

Funding college with little or no loans
Finding jobs
Saving money
Debt elimination
Starting a business
The workshops are geared toward female college students looking to date a rich man. Some scholarships are available donated by some of Ms. Lawson's rich men sugar daddy friends.
College girls dating rich sugar daddies have been highlighted recently in the Huffington Post, Dr. Phil Show, and many other television shows. Lawson says "Just like Suze Orman advises people to save money and plan for the future, I'm teaching young sugar babies the same thing."
Lawson also says, "Good financial habits need to be set early in a girl's college attendance. Young female college students should focus on finding a job, opening a business, as well as finding a sugar daddy to assist with financial goals. Women have to be savvy in making sure their financial futures are intact. I'm encouraging all workshop participants to open money market accounts with Fidelity, Charles Schwab, or TD Ameritrade, and read Smart Money and Morningstar reports.
Leidra Lawson is the controversial author of Sugar Daddy 101-What You Need to Know if You Want to be a Sugar Baby. She's a businesswoman and a sugar daddy lifestyle expert. Lawson currently resides in Atlanta, Georgia after having lived in Europe for several years. Lawson has been featured nationally in newspapers, magazines, and television. All types of women are encouraged to register for the workshop. For more information about Leidra Lawson please visit: http://www.sugardaddy101.com
For workshop information, contact:
Jessica Harris, Media Relations
(404) 939-2806
queensugarbaby(at)yahoo(dot)com
or visit http://www.sugardaddy101.com
For media inquiries, please contact Jessica at: queensugarbaby(at)yahoo(dot)com or (404) 939-2806
###