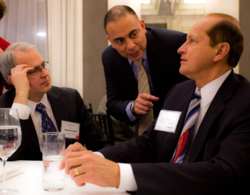 Chicago, Illinois (PRWEB) October 05, 2011
The panel will focus on the emerging trends in enterprise IT and their impact on greater efficiency and cost effectiveness. Participating in the panel will be Steve Verska, CIO - Technology and Analytical Services of Equifax; Alan Stukalsky, CIO of Randstad; Partha Mukherjee, CIO of Church's Chicken; Jay Ferro, CIO of Adcare; Samir Saini, CIO of Atlanta Housing Authority; and Sheryl Fikse, CIO of Southwire. The panel will the discuss the successes, failures, and lessons learned while these CIOs have innovated toward a greener, more efficient org. What technologies have they adopted that have changed the landscape they operate on? We'll get this insight and more on October 20th.
directIT Atlanta is a strategic conference where we welcome the Office of the CIO to convene and collaborate within a community that incubates thought leadership. Market sponsors of directIT Atlanta include Global Knowledge, Informatica, CI&T, Nimble Storage, CommVault, Hanu Software, Validity, Liaison Technologies, Flexera Software, HTC Global Services, & Saksoft.
For more details & to register visit http://atlanta.ciosynergy.com, or call 1.877.532.3480 ext 411
About CIOsynergy
CIOsynergy was founded to provide a unique platform to bring together the true visionaries of enterprise IT leadership. These are the 'thought leaders' that instigate both change and stability within the organizations they serve.
The successful CIO is a one that empowers themselves with the lessons, knowledge, and experience of a community – CIOsynergy brings forth this community of IT Leaders under the umbrella of world renowned leaders and visionaries to the likes Steve Forbes, Jimmy Wales, Howard Putnam, Jeff Ma and Frank Abagnale. Empowering the concept of 'Thought Leadership', our events incorporate face-to-face meeting opportunities through a series of open mic panel discussions and think-tanks coupled with inspiring business relevant keynotes, and C-suite networking programs.
Attendees have included the Chief Information Officers and IT leaders from Wal-Mart, Salesforce.com, Home Depot, Bank of America, Forbes Media, Wells Fargo, Shell, Allstate, State Farm, Career Education Corp, Pepsi, Sara Lee, Kraft, BP, Loyola University, Kaiser Permanente, Mayo Clinic, & Walgreens among 1000's more.
For more information visit http://www.CIOsynergy.com, or call 1.877.532.3480
###