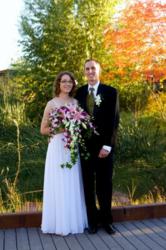 (PRWEB) October 06, 2011
"Finding out that I'd become a member of the 10K club was very exciting," Karen Gardner of Reno, NV said in an interview today. "It's an elite club that I never imagined I'd be a part of." She was referring to her recent win at SweepstakesToday.com (http://www.sweepstakestoday.com) that put her into the exclusive club of winners there.
"I came across SweepstakesToday.com by accident about six years ago, and haven't left the site since," she added, talking of her always-free membership.
Gardner estimates that over that period of time she's won a total of about $30,000, mostly in small prizes.
"The largest cash prize I won was a $900 Visa gift card… shortly before my husband and I got married. We used the money to buy our rings, my dress, and rent his tuxedo," she laughed.
She has, she said, won small prizes in drawings and the like at local stores, "…but almost all of my prizes have come from Sweepstakes Today," she added.
Asked if she thought she was addicted to sweeping, Gardner said, "I am not addicted to entering sweepstakes, but I do feel like I'm missing opportunities when I don't have time to enter for a few days! Just entering gives you hope and the possibility of 'what if?' What if I won a new car? Who would I take with me if I won this fabulous trip? How could I improve my life if I won a big bundle of cash? The possibilities are endless, and entirely feasible. "My favorite,(was) a trip for two to the Galapagos Islands, (valued at $12,500)" she concluded.
One of the things Gardner likes best about the website is it helps her keep track of the contests she enters. "In case I forget about one, I can easily look it up on Sweepstakes Today to get all the information I need," she said.
Asked how she felt about winning, Karen said, "… it's an awesome feeling. I feel excited and giddy, and want to share my win with anyone around me immediately. The big wins- those are few and far between, so the feeling is much more amplified."
###