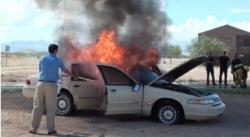 In my years in law enforcement I have attended many infernos where I know this product could have made a huge difference in saving lives and property and that is why I am so passionate about it.
Vancouver, British Columbia (PRWEB) October 06, 2011
Fire Safety Week 2011 sees the revolutionary anti-combustible Cold Fire™ make its journey from predominantly government and industrial use to availability for domestic use as well. Front line Tested by NASCAR racing teams and firefighters around the globe, Cold Fire's natural fire suppressants and retardants are now available to the public for use in their own homes.
Grant Pearson, exclusive Canadian distributor for Cold Fire™ believes in the product so much that he regularly plays with fire. Today he is standing in the middle of a group of police officers, military personnel and firefighters showing the Cold Fire™ range of suppressants and retardants. In his hand he holds a facecloth which contains a mix of magnesium and titanium pellets. When ignited with a blow torch flames leap out and this mix burns at a scorching, white hot, 5,000 degrees. Unbelievably the metals are spewing out flame but the cloth and more importantly his hands are not burned, he is still holding on to it. When he drops the flaming cloth to the ground and sprays it with Cold Fire™ the flame is immediately extinguished. Then he steps the fiery demo up a notch and sprays the Cold Fire™ on his arm and puts a blow torch to it – he doesn't wince, shows no sign of pain and his arm is un-burnt.
"That's why this product is so popular with NASCAR," explains Grant. Cold Fire™ puts out both hydrocarbon (gas, diesel, crude) and polar solvent (ethanol, methanol) fires. "In the case of a methanol fire, which can burn without a visible flame, you can spray both the car and driver as a precaution; Cold Fire is non-toxic to the driver, and non-corrosive to the car."
Incredibly at the heart of this revolutionary product is Mother Nature. "It was noticed that certain plant life has the ability to withstand significantly high degrees of temperature. It is the saps in those plants that have the ability to reduce the intensity of the heat and protect the cellulose structure," says Grant.
A Canadian Police veteran with 18 years experience, Grant says that traditional fire extinguishing methods just don't cut it. "Dry chemical extinguishers are pretty ineffective," he says. "In my years in law enforcement I have attended many infernos where I know this product could have made a huge difference in saving lives and property and that is why I am so passionate about it." He's not the only one! Police departments both in Canada and the US now use Cold Fire to protect themselves and are making it standard issue in Patrol Cars.
Cold Fire has been around for a few years and has been transforming the way firefighters combat fires, but until now the general public has not really had a glimpse at what this ground-breaking product can do for them right in their own homes or cars. "It's about to change the way the public view fire extinguishers and fire prevention," says Grant. Cold Fire's retardant can protect pretty well every area of your home and it lasts indefinitely between washes. "So if you spray it on your carpet or curtains they are fire safe until the next time you wash them, if you mix it in the paint for the outside of your house it would be protected by the paint sealant and would significantly reduce the impact of any fire. Spray it on a wooden bunk bed and it is protected."
There is not a blaze that Cold Fire™ suppressant cannot put out, and it extinguishes so much faster and more effectively than any other method on the market. Cold Fire neutralizes hydrocarbon particles, drastically cutting the smoke damage and danger that accompany a fire. "The smoke turns from black to white; so you can see better through the smoke. What's more, it is non-toxic. As a plant based substance, if you or your kids accidentally swallow some, breath its fumes or spray it in your eyes, it won't hurt you," explains Grant. "A big plus for its use around the home is that it is non-staining, leaves no residue and is not a slipping hazard."
Grant advises that: "During Fire Safety week we are sponsoring product to fire departments across the country so that the public can get a good look at it." To further reinforce the in home fire safety message Cold Fire™ has teamed up with Child edutainment site http://www.Cackleberries.com to sponsor fire safety messages for children between the ages of 3-7.
"This is the future of fire prevention and safety in the home and its available now. We recently introduced handy 13.5 oz aerosol cans, which are a perfect size for home use," explains Grant. "The formula is exactly the same as that used by fire departments all around the world." Cold Fire TM will extinguish all Class A, B, D & K fires, which include everything from grass, to fabrics, to gasoline, to magnesium and kitchen grease fires. Grant sees a future where everyone will keep a can in their vehicle, kitchen and garage. "Don't leave your home, without it!"
In support of Fire Safety Week and Month, find http://www.coldfirecanada.com's resources and fire safety tips for home and work.
View Cold Fire Canada's Demonstration Video from Arizona Fire School on Youtube.
About Cold Fire Canada
Cold Fire Canada Ltd. is a federally incorporated company designed to market an organic line of products manufactured by Firefreeze Worldwide, Inc. The company is proud to be the exclusive Canadian distributor for this GREEN technology, and has a mandate to protect lives and property in an environmentally friendly way. Cold Fire Canada Ltd. is currently outfitting the RCMP with 1.5 gallon Cold FireTM extinguishers mounted in the trunk of their police cars. Although Cold FireTM is a leading fire suppression tool for fire and police, it is fast becoming a safety feature in kitchens, vehicles, boats, RVs, homes and office.
About Cackleberries:
Cackleberries is a children's edutainment (entertainment and education) company offering a website, animation, toys, games, music and more. Most importantly Cackleberries introduces young children, three to seven, to the future of education with a dedication to keeping children safe. Cackleberries protects children from the internet with the latest technology, provides family friendly content, and never advertises to children. Children can play and learn for free about fire safety in the Cackleberries Fire and Safety House.
###