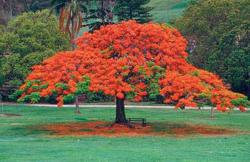 Science Magazine - EurekaMag.com
(PRWEB) October 06, 2011
The Science Magazine Eurekamag.com provides insights into specific scientific topics. This number is steadily rising and includes many reviews on agricultural, ornamental and other plants which have been studied scientifically. The latest inclusions in the collection of reviews of scientific subjects is an insight into the tropical tree species Delonix regia which is commonly known as Gulmohar Tree, Royal Poinciana, Flamboyant or Phoenix's Tail. Endemic to Madagascar it is known for its' flamboyant display of large red flowers. Since the tree is a leguminous species, it is able to fix atmospheric nitrogen through nodulation of its roots. The Science-Magazine article covers this symbiotic relationship in detail. Furthermore, the insight discusses the antibacterial activity of Delonix-regia extracts against certain bacteria which could also be used to treat malaria.
EurekaMag.com was initially launched in November 1998 as the online version of the French science magazine "Eurêka - Le magazine des sciences" published by Bayard since 1995. During the past decade, it has emerged as a comprehensive aggregator of websites and science references in biology, in the applied life sciences agriculture, horticulture and forestry, in the earth sciences, in the environmental sciences, and in the health sciences. During the end of 2010 it received ca. 40,000 page impressions per day but was republished after a change of ownership in early 2011.
Besides it's scientific content the Science Magazine also includes a directory to which users can submit their own or their company's information. This directory currently contains 13,705 categories. The site delivers its content through a number of RSS feeds which enables users to stay updated with news in their most favorite science topics within the site. For better public exposure the site also maintains an @EurekaMag Twitter account which currently features 40,000 tweets and a steadily rising readership of 512 followers. It is included in 15 Twitter lists.
EurekaMag.com has recently been successfully accredited by the Chinese Ministry of Information Industry with the registration number 案ICP备10204677号.
The site now accepts advertisements through the Google AdWords system. Potential advertisers may use EurekaMag.com for their advertising campaigns if their niche falls within the scope of the Science Magazine.
###