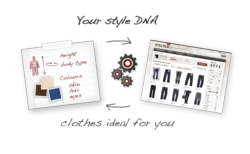 "Any guy can look good. Stylepilot.com will help men master fashion", Jim Cruickshank, Founder.
(PRWEB UK) 10 October 2011
Men need help. Dressing well is a daunting task for many men, who don't like shopping, don't shop well, or don't shop at all. Stylepilot.com is the first personal style engine for men – it's an automated stylist that gives men personalised recommendations based on their physique and preferences. Style Pilot searches through 1000s of online men's brands and retailers to find the best matches. Built by an expert team of stylists and engineers, Style Pilot aims to help men navigate fashion and figure out what works well for them personally.
According to Mintel, 60% of men do not consider themselves to have a good sense of style. Most men have no idea which colours, brands or types of clothing work best. Too many men are stuck in a 'clothing rut'; wearing the same shirt or pair of trousers again and again, consistently buying from the same shop and filling their wardrobe with clothes that don't work, but not knowing why. Changing the status quo is not easy; shopping environments are not male friendly, seeking advice from friends is just not the 'done thing', seeing a stylist in person is too humiliating and searching for clothing online is time-consuming, random and frustrating.
Stylepilot.com is a personal style engine, built exclusively for men. It's a tool designed to help any man quickly explore fashion online and to discover which styles and items to buy. The style engine is the application of science to men's fashion. A team of expert stylists and developers have computerised hundreds of rules that stylists use in personal style consultations. These include the rules that relate to colouring, body type, styles and occasions. It's quick and painless for a man to set their Style DNA (i.e. colouring, body type and height) and instantly get personalised recommendations that will work for them. Thereafter, men can continue to 'tune their engine' by indicating items of clothing they dislike. Their preferences are stored and added to their Style DNA so that recommendations become ever more tailored to the individual.
Style Pilot has an outfit builder tool, http://www.stylepilot.com/outfit/start, which recommends items of clothing for specific occasions such as a black tie event or a smart work function. Users can store the outfits they create and also share them to get opinions from others.
Style Pilot aggregates many online men's retailers (e.g. Topman, Nike, Mr Porter etc.) into one search engine so that men can quickly find the right clothes. Once an item has been selected on Style Pilot, a user can click through to their preferred retailer website to complete the purchase. Users can store their DNA and chosen items on Style Pilot to create a virtual wardrobe over time.
###