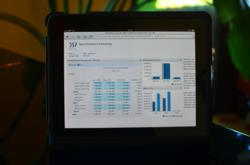 [DSPanel's Mobile BI functionality offers] a rare capability in the current mobile BI landscape.
Los Altos, CA (PRWEB) October 12, 2011
DSPanel, a leader in providing cutting edge visual business intelligence and mobile analysis, has been recognized by Gartner in two of their annual reports, the "Who's Who in Interactive Visualization for Analysis and Dashboarding" and "Who's Who in Mobile BI".
Gartner commented that "[DSPanel's Mobile BI functionality offers] a rare capability in the current mobile BI landscape." This functionality is the ability to build reports within mobile devices and to drag and drop dimensions and measures to generate charts and graphs. Those reports, charts and graphs are then able to be navigated by simply drilling up and down the dimensional hierarchies and they can also be customized into different formats and saved for future use.
Further, DSPanel's Performance Canvas dashboarding tool was recognized for offering "out-of-the-box functionality for color coding, dials and gauges, mapping, sparklines, standard charting and analytic visualization including brushing, chart linking, extended charting, filtering via sliders, in-memory processing, visual interactivity, isosurfaces and contours, map zooming, panning, time-based playback and zooming."
Niklas Derouche, CTO at DSPanel had this to say, "We are excited to be included in both of Gartner's Who's Who reports. Performance Canvas is designed to empower the business user, no matter what device is being used, giving the freedom to create visual analysis and reports on-the-fly and on-the-go. From its inception, we designed Performance Canvas to empower users to go beyond static dashboards to gain real-time answers and one version of the truth, without having to spend hours training and gaining specialized BI knowledge."
Performance Canvas gives business users the power to create, modify and deploy their own visual analytics, dashboards and reports without needing specialized IT, MDX or OLAP knowledge. This enables business users to increase their productivity, gain immediate access to data, and improve the decision making process while never needing to involve IT when the business situation changes and they require a modified report or dashboard.
To learn more about Performance Canvas solutions, visit DSPanel at http://www.dspanel.com.
About DSPanel:
Since 1999, DSPanel has been a leader in end user focused business intelligence and structured financial planning technology. Our premise is that Business Intelligence should enable you to create dashboards that answer any question, facilitate collaboration and enable your organization to make smarter decisions. From Supply Chain to Finance, DSPanel products have helped companies shorten budget cycle times, increase profitability, manage and improve departmental performance and facilitate organizational change. At DSPanel, we are excited for you to join the more than 1500 companies around the globe that have opened the door to their data using our technologies.
To learn how our solutions can help your organization, visit http://www.DSPanel.com.
Contact: Jennifer Howell
Phone: +46 70880 2820
# # #