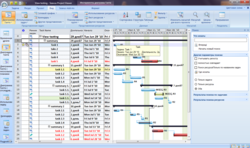 Seavus Project Viewer's Russian and Chinese Simplified versions are now available for download.
(PRWEB) October 06, 2011
Seavus proudly releases the new version of its viewer for MS® Project, Seavus Project Viewer™ v6.5.
Continuously improving the viewing of MS® Project files (.mpp files), Seavus Project Viewer, the leading MS® Project Viewer now offers two new languages and more features. The Russian and Chinese Simplified versions are now available for download.
With the Import Custom Excel Template feature Seavus Project Viewer is expanding its wide range of MS® Project viewing options. It provides unique chance to run a project in an MS® Excel template and then easily present it in standard MS® Project metrics.
Text style is an additional option which can be used for highlighting critical, inactive or external tasks, tracking milestones and resources and visually distinguishing crucial project tasks.
Moreover, with over 50 improvements of current features, improved work with Baselines, Page Setup dialog and Progress Lines, Seavus Project Viewer™ remains the unique low cost viewer for MS® Project.
For more information visit http://www.seavusprojectviewer.com.
About Seavus
Seavus is a software consulting and development which has over 400 employees dedicated to provide customers with premium services and products. Seavus has 6 offices around the world in Sweden, USA, Macedonia, Belarus, Latvia and Serbia.
As a cutting-edge software development and information technology company, Seavus is committed to partner with its customers to deliver high-quality, effective and reliable solutions to their business needs. Inspired by this customer-driven development process and by using/deploying the latest state-of-the-art technologies, Seavus continues to provide a strong and dedicated focus on quality and customer satisfaction.
The customer portfolio includes organizations such as: IBM, Michelin, Allianz, Bayer, NASA, Volvo, BP, Chevron, BMW, SAP, Lloyd's, Renault, Yamaha, Honda, Lockheed Martin, NATO, DuPont, Fuji, Revlon, Tetra Pak, Toshiba, Sony as well as hundreds of other organizations that have trusted Seavus with their business requirements.
###