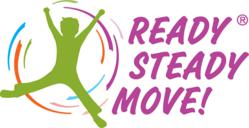 Ready-Steady-Move has everything children enjoy – music, movement and visuals.
West Andalucia, Spain (PRWEB UK) 8 October 2011
The Helen Doron Education Group is pleased to announce the opening of a new Ready Steady Move! franchise in West Andalucia, Spain. Ready Steady Move! is an innovative movement programme for children, combining physical fitness with the mental stimulation of language learning. Mrs. Elizabeth Donaire and Mr. Angel Alvarez have joined the Helen Doron Educational Group as Franchisees for Ready Steady Move!
The new franchise region includes Seville, Cadiz, Huelva and Cordoba. Elizabeth and Angel will share the responsibilities of running their new franchise, with Angel taking on financial and administrative duties while Elizabeth focuses on day to day management and sales. They will be offering Ready Steady Move! classes featuring English and Mandarin Chinese.
Elizabeth and Angel were drawn to Ready Steady Move! as a unique product in children's education. Elizabeth has been professionally involved in education for many years, and is particularly concerned with shortcomings she has seen in the system. With the holistic approach of Ready Steady Move! using fitness and language learning to reinforce each other, she sees a new way to address an important issue. For more information about this programme, visit http://www.ready-steady-move.com
About the Helen Doron Educational Group
The Helen Doron Educational Group stands at the forefront of innovative educational systems, providing exclusive learning programmes and quality educational materials for babies, children and adolescents the world over since 1985. Our high-quality, English language educational programmes include the well-known Helen Doron Early English courses for children of all ages; Ready Steady Move! is a new programme, combining fitness through movement with language learning. The Helen Doron franchise model invites entrepreneurs to join a successful business operation that benefits children around the world. For more information, visit us at: http://www.helendorongroup.com
###