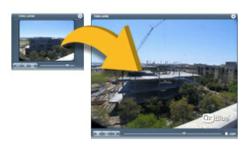 With this latest release, I believe we have taken that ability to a whole new level.
Atlanta, GA (PRWEB) October 06, 2011
OxBlue, a leader in the construction camera industry, has announced a major upgrade to its online construction camera system. "The priority one request we had from our customers was to enhance their ability to review and document construction progress using high-definition time-lapse videos," shared Bryan Mattern, Chief Technology Officer for OxBlue. "With this latest release, I believe we have taken that ability to a whole new level."
The new end-user interface for OxBlue construction cameras is capable of displaying images from OxBlue's 4-, 6-, 8- and 12-megapixel wide-angle and robotic PTZ camera systems. It features numerous enhancements, including:
Online time-lapse movie resolution increased by 10x
The high-definition time-lapse movies available in the OxBlue iPad app are now available in OxBlue's online software interface.
It's now even easier to locate specific images
Thumbnail previews, calendar drop-downs and new time-navigation capabilities have been added.
Multiple image viewing modes now available
Users now have the ability to view images in traditional, wide-screen and full-screen formats for greater detail.
The optional Pro version of the interface allows users to compare one project's schedule with another's to measure performance, overlay images to detect changes on the jobsite, and view any sequential 4 days, 4 weeks or 4 months for project reporting.
The new interface enhancements enable users to review an entire job for performance and sequencing of work, as well as download high-definition time-lapse videos directly from the interface for project analysis and marketing purposes. "We've listened to our users, studied what's really useful to people and what they really need," continued Mattern. "We've always concentrated on determining our customers' needs, and our simple and powerful solutions are the result of OxBlue's focus on the customer."
About OxBlue
OxBlue is a leading construction camera service provider, giving numerous Fortune 500 companies the hardware, connectivity and expertise to enable constant access to jobsites through high-resolution construction webcam images. OxBlue's construction cameras connect people on and off site, and measure variables such as schedule, risk, weather and quality. The cameras provide accountability and increase communications between construction companies and clients.
###