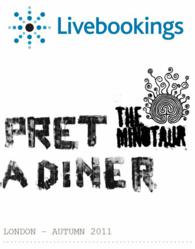 (PRWEB UK) 5 October 2011
PRET-A-DINER is one of the key events during this years' London Restaurant Festival, of which Livebookings' consumer facing brand, Bookatable, is the exclusive online reservations partner. The top line-up of Michelin starred chefs includes Nuno Mendes (Viajante), Matthias Schmidt (Villa Mertin) and Juan Amador (Amador).
Speaking of the collaboration, founder and CEO of Kofler & Kompanie, KP Kofler, commented, "We were looking for a quick and easy solution to use for the London leg of the PRET-A-DINER pop up to take reservations. We needed a solution that could be added to our website very quickly, but be intuitive enough for us to set strict availability rules. The Livebookings system is cloud-based and was set up in no time at all. We can access and adjust the bookings being made by any computer, wherever we may be."
Olivia FitzGerald, Regional Director UK & Ireland commented; "We are delighted to be working with PRET-A-DINER to bring Europe's most celebrated pop-up restaurant to the capital. Livebookings' industry leading real-time reservations booking platform was ideally suited to be used for PRET-A-DINER's pop up concept. We were also able to customise the reservations tool to fit with the unique style and branding of the PRET-A-DINER website. Livebookings' quick implementation and easy to use cloud-based management tool has meant we are the go to company for temporary restaurant concepts, having already supported such pop ups as Bernares at Meza and N-ice, the world's first frozen gourmet restaurant."
Book a table to attend PRET-A-DINER here:
http://www.theminotaur.co.uk/dining/
About Livebookings
Livebookings makes restaurants and diners click. They operate the world's only global, web-based restaurant reservations and marketing service, delivering over one million diners every month to over 9,000 restaurants including Gordon Ramsay Holdings, Tantris, East, Grill and Aquavit. Their reservations tools enable restaurants to provide their diners with a free, easy-to-use online bookings service, to manage those reservations efficiently and to collect valuable customer data. Their marketing services ensure restaurants can run promotions and deals and execute online marketing campaigns to attract and retain their customers.
Their consumer restaurant reservations website, Bookatable.com, is Europe's fastest growing online restaurant booking website, operating in 9 different languages and across 19 countries. It supports their unparalleled network of 300 distribution partners, including lastminute.com, Salir.com, Ticketmaster and Eniro.se, to ensure they can spread news of deals far and wide and help their restaurant customers attract new business.
Headquartered in London, with offices across Europe and the USA and customers in 23 countries, Livebookings is the largest online reservations provider in Europe, focused on making restaurants more profitable and dining out more pleasurable.
About PRET A DINER
PRET A DINER was created in 2004 by one of Germany's most well known caterers, KP Kofler, Founder and CEO of Kofler & Kompanie. Bringing together some of the best chefs in the world to combine their technical know-how and their unique form of creative cuisine, PRET A DINER 2011 is a pop up series combining a restaurant, club lounge, social club and gallery. It is a world class dining experience marrying Michelin Star chefs, art and music to dynamically redefine 'experiential'. Trend-setting themes, such as currently TRADIZIONE NUOVA (after "GREEN GLAMOUR," "HAND-MADE," "Made in Germany," "The Spice of Life" and "Küche der Emotionen" (Kitchen of Emotions), are interpreted and presented within the meaning of "satisfying all senses." Michelin star chefs interpret the seasonal motto of each theme together with K&K's chef of cuisine Kay Schoeneberg.
Last winter, PRET A DINER "The Melting Pot" caused international furore in a former coin mint in Berlin for 45 days. Booked up non-stop for six weeks – with more than 10,000 guests.
On the occasion of the Berlin Fashion Week in summer, PRET A DINER popped up again with "The Culinary Discovery" in a unique location on the riverbank for nine days. Within only 24 hours, it was fully booked up via online reservation – with more than 5,000 guests.
PRET A DINER "The Tree House" will now climb the roofs of Frankfurt to the 24th and 25th floor of the NEXTOWER and will transform one of the city's most impressive skyscrapers into a tree house for September followed by the incredible 'one off' experience which will be "The Minotaur" in The Old Vic Tunnels in October.
Pret A Diner has received world wide press coverage including the New York Times to critical acclaim.
"My aim is to tempt and to train – to show the people what levels of taste sensation can be experienced when enjoying our dishes. That harmony exists between atmosphere, enjoyment and well-being".- KP Kofler.
http://www.pretadiner.com
###