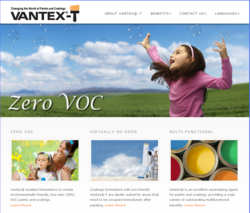 Because Vantex®-T enables zero-VOC formulations with virtually no odor, paints formulated with Vantex®-T are ideally suited for areas that need to be occupied immediately after painting.
Ghent, Belgium (PRWEB) October 07, 2011
Taminco continues to refine how the Internet improves customer service - even in the specialized chemical additives industry. This week, Taminco unveiled redesigned websites for the company's coatings additives Advantex® and Vantex®-T.
"By integrating user-friendly design, easy-to-read pages and simple navigation, these websites further our goal of making it easier for customers and potential customers to find the information they're looking for," said Dr. Kurt Buyse, Taminco's Performance Products business director.
"Visitors to advantexamine.com will know immediately that this low-odor amine additive helps form effective, efficient paints at a significant savings over other additives," he said. Buyse pointed out that using Advantex® instead of ammonia means using less surfactant, defoamer, dispersant and glycol antifreeze, resulting in net savings of up to $10 per 100 lbs.
Visitors to vantex-t.com will see at once that Vantex®-T is an excellent neutralizing agent for paints and coatings. "Because Vantex®-T enables zero-VOC formulations with virtually no odor, paints formulated with Vantex®-T are ideally suited for areas that need to be occupied immediately after painting," Buyse said.
These new websites, like all of Taminco's product-specific websites, are all about information. Product brochures, technical and performance data – even research papers and scientific presentations – are easy to find, and are all available for immediate download with a single click of the mouse.
Also, the new websites seamlessly integrate with Taminco's social media networks – including Facebook, Twitter, YouTube and the blog aminestoanend.com – as well asSpecialtyamines.com, Taminco's information clearinghouse for high-performance amine additives.
"In the chemical industry, most websites focus on the company, not the product," Buyse said. "You have experienced it for yourself. On too many websites, potential customers need to drill down through several pages in order to find the information they are looking for.
"With our new websites, it is all about the information," Buyse added. "These new websites make it simple to find and download the information you need – or even request a sample be delivered to you – with one or two mouse clicks."
Online, visit http://vantex-t.com and http://advantexamine.com. Also, visit http://specialtyamines.com and http://aminestoanend.com.
Company Profile
Taminco, The Amine Company is the world's only global integrated specialist alkylamine producer. Alkylamines and their derivatives are key building blocks in a broad array of chemical products that have a wide range of applications. This way, Taminco makes a valuable contribution to diverse markets including Food and Nutrition, Personal and Home Care, Energy and Water Treatment.
Focusing on its 3 core values, Passion, Care and Integrity, Taminco works constructively towards a sustainable and innovative future.
Headquartered in Ghent, Belgium, Taminco owns and operates 8 manufacturing facilities located in Belgium, Germany, the United States, Brazil and China and, together with its global sales network, has approximately 800 employees spread across 17 countries.
Taminco is organized into two divisions – Functional Chemicals and Agro Sciences – which reflect the end‐user segments to which the company markets and sells its products. Functional Chemicals produces specialty chemical intermediates that are used in the manufacture of specialty products and active ingredients – properties that are integral to the functions those products serve. Agro Sciences cares about plant and animal health, providing various solutions to serve the Crop Protection, Herbicide Systems and Feed Additives markets, while focusing strongly on development and innovation.
###