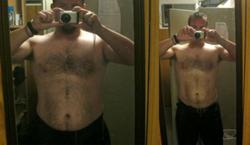 "I decided to do a daily blog as I went through this process, and the community on Diet.com was very supportive." - Tom S., Diet.com member and online dieter
Brookline, MA (PRWEB) October 11, 2011
Diet.com, one of the web's leading resources for diet, fitness, and nutrition content and tools, has posted a new weight loss success story highlighting one of its members' recent 37 pounds of weight loss.
The story, featured in the site's Weight Loss Success Stories section, details how diet, exercise and keeping a diet blog on Diet.com helped member Tom S. lose the weight.
Tom, a contractor who until recently was working a year-long stint in Iraq, began blogging on Diet.com in July of 2011.
In one of his 40+ blogs on the diet website, Tom confessed, "I've worked out, I've dieted, I've tried a thousand different pills, shakes, you name it. Ultimately, limited success at best." After losing the first 17 pounds, he hit his first weight loss plateau and realized he needed some help.
That, according to his featured story, is when he turned to Diet.com to break through that plateau. His very first blog entry on Diet.com begins, "Maybe doing the blog will help with my goals... worth a shot!"
This was the shot that paid off! Tom found that the support of other online dieters at Diet.com was what helped him break through that plateau and exceed his initial weight loss goals.
In the recent article on Diet.com highlighting his weight loss success, Tom says, "I decided to do a daily blog as I went through this process, and the community on Diet.com was very supportive." This compelled him to post about his progress each day which made him feel obligated to have something to post about, keeping him focused on his goals. "My pride wouldn't let me post on a Tuesday (my weigh in day) and say, 'Well... I gained weight...'"
In addition to blogging for accountability, Tom also employed the two staples of weight loss success: diet and exercise.
Eating a menu mostly consisting of grilled chicken, baked fish, veggies, fruits, nuts, olives and water, Tom also followed a new strategy of eating several "mini-meals" throughout the day, rather than a traditional "3 square meals per day" plan. He also got creative with salads, adding things like kidney beans for extra fiber and crunch. He did, however, allow himself one "mini-cheat" each day - sometimes an Oreo, sometimes a chicken wing.
Typical exercise for Tom involved a lot of treadmill time: "The vast majority of my exercise... was done via treadmill, walking 3mph at a 15% incline for anywhere from 20-60 minutes, morning and night." Weighing in weekly and posting his progress in his blogs helped him keep his eye on his goal weight.
For Tom, adapting healthier eating and exercise habits, along with the motivation of being held accountable by his blogging audience was the combination needed to finally break through his weight loss plateau, and drop a total of 37 lbs. He has surpassed his first goal and is on his way to his next goal of toning up, now that he is home from Iraq.
"I still plan to lose more," he says in his weight loss success story on Diet.com. "But specifically focused on losing fat, not worrying about the actual weight number (within reason). Swimming, cardio, weights, all will be back in the rotation."
Starting weight: 237 lbs
Goal Weight: 205 lbs
Current Weight: 200 lbs
To learn more about Tom, follow his diet blog over at Diet.com. Click here to read more Diet.com Weight Loss Success Stories, complete with before and after photos.
About Diet.com:
Diet.com is a multifaceted health and wellness organization that provides quality information and cutting edge tools and services to consumers and businesses alike. Since its founding, Diet.com has been a valuable online resource for dieters and those seeking information on living a healthy lifestyle. As one of the web's leading resources for diet, nutrition, and fitness content and tools, Diet.com has created a platform where consumers are able to set and track diet and fitness goals, browse over 1,000 healthy recipes, learn new exercises, and interact with others in the thriving Diet.com online community. The diethealth YouTube channel has a library of close to 500 videos, over 107,000 subscribers, and has received upwards of 86 million views. For any inquiries please contact Lauren Alford, Director of Business Development, at LaurenA(at)diet(dot)com or 919-616-7532.
###