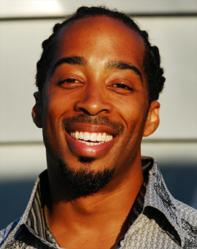 "What if the reason you rushed off to the airport after the final presentation was not because the tradeshow had ended, but because the ideas it inspired had just begun?," said Sekou Andrews, keynote speaker.
Austin, TX (PRWEB) October 06, 2011
The 2011 TSNN Event Excellence Awards, Nov. 4-6 at the Omni Shoreham Hotel in Washington, D.C., promises to be a stand-out event with thought-provoking keynotes, valuable educational sessions and the naming this year's Industry Icon Award Honoree, Jason McGraw.
McGraw is the senior vice president of expositions for InfoComm International and a 24-year veteran of the trade show industry. Besides InfoComm, he also has worked on some of the biggest shows, such as CONEXPO-CON/AGG and the International Builders Show. He also has managed international shows held in China, Europe, Japan, Mexico and Singapore.
At InfoComm, McGraw is responsible for the annual TSNN Top 250 professional audiovisual industry exposition held each June in the U.S. In addition, he is a board member of IAEE and a member of ASAE, MATSO and PCMA.
For these achievements and more, TSNN is proud to name Jason McGraw this year's Industry Icon Award Honoree.
"I am deeply humbled and honored to be selected as TSNN's Industry Icon Award Honoree," McGraw said. "Thank you to everyone at TSNN and Tarsus Advon for recognizing my years of effort and service in the exposition management industry."
Keynotes will include one given after lunch by Sekou Andrews, an award-winning and internationally acclaimed spoken word artist, actor and musician who inspires the business world one poem at a time with "The Sekou Effect."
"What if you could leave a tradeshow but have the tradeshow never leave you? What if you could experience a tradeshow once and remember it forever? What if the reason you rushed off to the airport after the final presentation was not because the tradeshow had ended but because the ideas it inspired had just begun?," Sekou said.
Sekou thrives on transforming "What ifs" into reality. His unique and captivating keynote will be unlike any you've experienced at a tradeshow. The keynote will help you both retain and apply the information, strategies and insight that will have filled your mind by sealing them into your heart and soul. "Expect not to expect what you expect to come next," Sekou said.
His work has been featured on such diverse national media outlets as ABC, MSNBC, HBO, Showtime, MTV and BET. Companies and organizations that have experienced "The Sekou Effect" include Kraft, Kaiser Permanente, Nike, Medco, Time Warner, eBay and Microsoft. For more on Sekou, visit http://www.TheSekouEffect.com.
The morning keynote will be given by Thom Singer, who is a professional speaker, sales trainer and the author of seven books on the power of business relationships and networking, and a eighth on presentation skills. He has spent over 20 years in sales, marketing, and business development roles with major corporations and AM LAW 100 law firms.
He regularly consults with corporations, law firms and individuals on how to cultivate their personal brands and establish professional connections that will lead to more referral business.
His speaking includes impactful keynotes, break-outs sessions, training programs and the "Conference Catalyst" program, which is quickly becoming a "meeting planner's favorite". In this role he sets the tone for a meeting to be a place where people embrace the opportunity to create real and meaningful connections. For more on Thom Singer, please visit http://www.ThomSinger.com.
T-awards educational highlights feature a "State of the Industry" session Saturday morning with Vinnie Polito, chair of the International Association of Exhibitions and Events, and Sean Guerre, chair of the Society of Independent Show Organizers, discussing the state of the trade show industry with moderator Stephen Nold, president of Tarsus Advon, a division of U.K.-based Tarsus Group (owner of TSNN).
The C-level executive conference also will include a panel on the latest in social media with show managers talking about what they are doing on their show, as well a session talking a look a Visa issues with Patricia Rojas, U.S. Travel Association vice president of government relations, and what the industry is doing to ease international visitation to trade shows.
The Saturday night gala awards evening will celebrate not only the 40 fastest-growing shows in attendance and net square footage, but also the show with the best social media outreach and marketing, the special Industry Icon Award Honoree and TSNN's very first "Best of Show" award.
The award presentation is hosted by Adam Schaffer, former Publisher of Tradeshow Week, and President of Media Revenue Partners. To register, please go to http://www.T-awards.com.
Sponsors for this year's event include Presenting Sponsors Freeman and Ungerboeck Software International; Founding Sponsor The Expo Group; Gold Sponsors SmartSource, Trade Show Internet, a2z Inc., Experient, etouches, asp and MarketArt; Silver Sponsors presdo, T3Expo, OnPeak, IndustryConnect, AllianceTech, LA Inc. and Convention Data Services; Hotel Sponsor Omni Shoreham Hotel, Washington, D.C.; Media Sponsors include Convention News Television and H+A International; Photography Sponsor The Photo Group.
For sponsorship information please contact: Chris Anderson – canderson(at)tsnn(dot)com – 512 992 6297.
About Tarsus Advon
Based in Austin, Texas, Tarsus Advon oversees online publications and community portals that provide technology information and education for the event and trade show industry. Tarsus Advon also conducts research with show organizers, technology suppliers and industry experts. Qualitative and quantitative data are respectively gathered through primary sources and survey analysis. Events are designed to educate event and exhibition professionals about the latest trends and developments in technology. Tarsus Group acquired Tarsus Advon in 2010.
TSNN Press Contact:
Taylor Poss
tposs(at)tarsusus(dot)com
(512) 310 0628
###