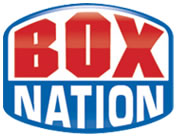 "We chose PayWizard as our payment partner because the PayWizard payment mechanism is smooth, fast and secure and because it gives us the flexibility and scalability that we need for the future."
Cannes (PRWEB UK) 7 October 2011
MIPCOM Stand C1.09 - BoxNation, the UK's first live dedicated boxing channel, has chosen PayWizard as its online payment mechanism. Launched last month, and supported by boxing promoter Frank Warren, BoxNation is currently free-to-air (Sky Platform Channel 456); it will convert to a subscription channel before the end of the year and will cost £10 per month.
To subscribe, boxing fans simply go to the BoxNation website and pre-register with PayWizard. Pre-registered and new customers will be invited to create a PayWizard account online and set up the subscription. After the subscription is validated, most weeks viewers will be able to enjoy two live championship events, as well as amateur boxing, magazine shows and archive footage of classic fights.
BoxNation, which has agreed a long-term content deal with boxing promoter Frank Warren, joins a rapidly growing group of broadcasters and media business adopting PayWizard as their preferred payment platform. Existing customers include FilmFlex (Film 4oD's online movie service, powered by FilmFlex), Racing UK (Android/iPhone apps) and Omnimotion (online gaming).
Simon Green, CEO of BoxNation, commented: "As a premium service, BoxNation's customer experience at the critical registration and subscription stage must be second to none. We chose PayWizard as our payment partner because the PayWizard payment mechanism is smooth, fast and secure and because it gives us the flexibility and scalability that we need for the future."
Jamie Mackinlay, Commercial Director at PayWizard, added: "BoxNation is an exciting and high profile new boxing venture and we are thrilled to be associated with it. We have already pre-registered a significant number of customers and expect take-up to accelerate as the channel becomes more popular. PayWizard also gives BoxNation the freedom to add complementary revenue models - such as micropayments or 'freemium' content snacking on smartphones and tablets - in the future."
About BoxNation
BoxNation is the first ever channel dedicated to serving the UK's LIVE fight enthusiasts and sports fans, It is currently available to Sky customers on EPG number 456.
The line-up of high quality content will mostly feature two LIVE championship promotions from the UK and around the world each week. Steve Bunce's ever-popular, always controversial Buncey's Boxing Hour will be revived and often presented from the world famous Planet Hollywood restaurant in central London. There will be daily fight news updates and an extensive archive bringing back classic fights from home and abroad and featuring some of the world's greatest ever boxers including Muhammad Ali, Mike Tyson, Sugar Ray Leonard and many more. In addition there will be extensive programming from the world of Mixed Martial Arts combat sports to make BoxNation the place to be for true fighting action.
Germany's premier promoter Sauerland Promotions, which has world-class talent from Germany and Eastern Europe, has signed an exclusive three-year deal with BoxNation.
BoxNation has secured some of the most respected boxing broadcasters including presenters Jim Rosenthal, Richard Keys and Paul Dempsey, pundit Steve Bunce and commentator John Rawling, all making BoxNation home to the most knowledgeable and engaging team in the sport.
About PayWizard
The PayWizard payment solution can manage multiple payment types, including credit/debit card payments, direct debit and MO/TO (Mail Order/Telephone Order). PayWizard is entirely flexible in managing different transaction types to suit each content owner's needs, from one-off ad hoc card payments as a straightforward PSP, all the way to a function-rich e-wallet (pre-paid or non-balance holding). PayWizard enables a host of innovative subscription models, as well as handling micropayments and nanopayments.
PayWizard supports transactions made on multiple devices - including online, tablets, smartphones, connected TVs and digital set-top boxes - and features a unique, web-based management dashboard that provides detailed real-time activity reports as well as valuable, actionable marketing information on transactions, campaign effectiveness, consumption patterns and revenues generated and can be used to drive the development of personalised promotions and informed and creative cross-device marketing opportunities.
About PayWizard plc
PayWizard plc offers a complete payment and monetisation solution that makes purchasing and consuming digital content easier than ever. PayWizard plc is wholly owned by MGt plc, a solutions market leader with over 13 years experience in providing sophisticated payment and billing systems for many of the UK's most innovative broadcasters and service providers.
###