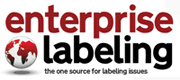 At Loftware, we have made it our mission to research and focus on contemporary labeling issues across multiple industries
Portsmouth, NH (PRWEB) October 05, 2011
Loftware, the foremost authority and global market software leader in Enterprise Lifecycle Printing (ELP), has announced it is sponsoring a new blog, EnterpriseLabeling.com, that - for the first time anywhere - exclusively covers contemporary labeling issues, challenges and solutions across most industries.
As the destination for labeling related news and trends, the blog will enable visitors, analysts, and influencers to keep abreast of several topical areas including labeling compliance; counterfeit labeling; track and traceability; standardization across supply chains; as well as GS1 compliance and FDA regulatory issues. Contributions to EnterpriseLabeling.com from industry experts and thought leaders throughout the labeling and printing blogosphere are welcomed.
Loftware's sponsorship of the blog was founded on the belief that leading supply chain labeling solutions start with a relevant and knowledgeable source. With over 5,000 customers, Loftware is in a unique position to pass on its experiences and create a community for others to share their expertise in solving labeling issues by highlighting new and relevant information from which all industries can benefit.
"At Loftware, we have made it our mission to research and focus on contemporary labeling issues across multiple industries," said President and CEO, Robert O'Connor Jr. "We have reaped the benefits of this by emerging as thought leaders in Enterprise Lifecycle Printing. As a testament of our focus and domain expertise we expect that our leading-edge, Loftware-sponsored blog will become the go-to, single source of truth for all things labeling."
About Loftware
Loftware is the foremost authority and global market software leader in Enterprise Lifecycle Printing (ELP). ELP is a category of software that enables a holistic approach to barcode labeling, documents, and RFID Smart tags integrated into an enterprise's application infrastructure across the entire supply chain. Loftware's 'no programming required' approach leverages existing data processes to ensure a harmonization of product information from design to delivery. By eliminating redundant data sources, Loftware delivers agile and compliant solutions that offer high-volume print capabilities for SAP, Oracle and legacy systems. In all, Loftware has enabled over 5,000 organizations to quickly develop and deploy complex label and document printing integration with unprecedented domain expertise. Learn more about Loftware by visiting http://www.loftware.com.
###