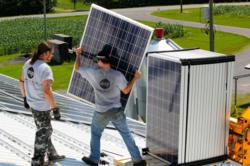 "The FIT and microFIT programs have been very successful in accomplishing their goals of increasing employment and bringing local manufacturing to Ontario. Today, the Province's solar industry supports the equivalent of 8,200 full-time solar jobs."
Toronto, Ontario (PRWEB) October 06, 2011
Drouin Farms, a large family run egg producer who has made the commitment to move to organic farming, is now taking its operations solar with a 250 kW solar energy system. The solar energy system was installed by Ottawa Solar Power, the largest provider of solar solutions in Eastern Ontario. Leveraging Ontario's FIT program, the new solar energy system will provide Drouin Farms an additional revenue stream to diversify its income and expands its operations. The Drouin Farms solar project will produce energy generation revenue that is expected to achieve up to 11% return on their investment and will reach its financial break even point in less than 8 years. Producing over 300,000 kWh per year, the project achieves significant environmental benefits by reducing CO2 emissions from non renewable power generation by 2,800 tons annually and produce the energy equivalent to the power consumption of 30 average homes.
"The FIT and microFIT programs have been very successful in accomplishing their goals of increasing employment and bringing local manufacturing to Ontario. Today, the Province's solar industry supports the equivalent of 8,200 full-time solar jobs. The FIT program's local content requirements have attracted both established international manufacturers, like Conergy, as well as some new startup organizations to Ontario - almost 30 solar PV module and inverter manufacturing facilities have been established across the Province," stated Jared Donald, President of Conergy Canada.
The FIT and microFIT programs have allowed Ottawa Solar Power to triple its work force, creating new jobs and opportunities for workers. Ottawa Solar Power hired recent college graduates that were enrolled in renewable energy courses at Ontario colleges and took on a co-op student who was studying renewable energy engineering at Carleton University. In 2011, Ottawa Solar Power hired 12 new people, and directly injected over $1.5 million dollars into the local economy and over $3 million into the economy of Ontario. Michael McGahern president of Ottawa Solar Power said, "Our company was excited that Drouin Farms decided to work with an experienced solar installation company for this project. It's a fantastic opportunity for our organization to showcase our 15 years of renewable energy experience on such a large-scale project."
The solar energy system uses 1,248 Conergy ON modules. Conergy, a global leader in solar energy with over a decade of manufacturing, supply and design experience and over nine years of experience in Canada, provided PV design and engineering support and pre and post construction consultation for the Drouin Farms solar energy system. The Conergy ON modules are manufactured for Conergy in Ontario and meet Ontario Power Authority local content requirements.
With the system already connected and supplying power to the Hydro One distribution system, Drouin Farms is pleased with the energy production and the look of the system. Jean Francois Drouin, President of Drouin Farms, stated, "Solar is the future, just like organic farming, and we are proud to be part of the future" When Drouin Farms decided to go solar, they wanted a local supplier and installer. "Not only did we want to keep our dollars local and support the FIT program, but it was important to us to work with a company like Ottawa Solar Power, that shared a strong interest in the project's success. Conergy and Ottawa Solar Power have been great partners."
About Conergy
As a full system manufacturer, Conergy Group delivers solar energy systems from a single source and offers all services under one roof.
Through deep-rooted operations in 18 countries, Conergy System Sales sells premium Conergy products to customers in nearly 40 countries worldwide. Conergy supports homeowners, installers, wholesalers and investors in their efforts to "go solar.". With local sales activities on five continents, Conergy has close relationships with all its customers. Listed on the Frankfurt stock exchange, Conergy employs more than 1,700 people worldwide. Since Conergy's founding in 1998, it has produced and sold more than 1.5 GW of clean solar power, and developed over 500 MW of solar parks.
Conergy's Solar Large Projects Group manages the planning, financing, installation, monitoring, and ongoing operations and maintenance for turn-key solar projects across the globe. Conergy;s broad project expertise ensures maximum performance from every Conergy power plant..
Through its acquisition of well-established local companies, Conergy began operating as a distributor and project developer in North America in 2005 and currently has five offices, four warehouses and three production sites in the region. In North America, Conergy is both a manufacturer and wholesaler. Conergy manufacturers mounting systems in Sacramento, CA. In Ontario, Canada Conergy produces modules and mounting systems that meet local content requirements for the Provincial FIT. Conergy offers innovative products and tailored services to its North American network of system integrators and project developers. Through these activities, Conergy maintains expert knowledge about local market conditions and requirements.
About Ottawa Solar Power
Ottawa Solar Power is the largest and most experienced provider of solar solutions in Eastern Ontario with over 400 systems installed with a capacity of over 2 Megawatts of power. Founded in 1996 to service the "of grid " market for solar electric systems, Ottawa Solar Power expanded into the commercial and industrial markets for remote power applications, and was the first company in Ontario to install a grid tied solar electric system. Major clients include National Parks Canada, Canadian Wildlife Federation, National Research Council, and the Canadian Research and Communications Department. With the success of the Ontario micro FIT program Ottawa Solar has installed over 400 systems throughout Eastern Ontario, and has tripled its work force to keep up with demands from customers wanting to work with an experienced solar company.
About Drouin Farms
Drouin Farms is family owned Eastern Ontario farm, involved in large scale organic farming. With over 4000 acres of land, Drouin farms supplies all of its feed source for its 40,000 egg-producing hens used in its operations. Drouin Farms is continuing to expand its operations every year to meet the growing demand for organic products in the market place.
###