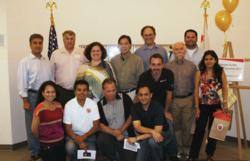 (PRWEB) October 06, 2011
Unitek Education held its annual IT Instructor Summit in its headquarters in Fremont, CA. The summit brought together all Unitek Education IT instructors to one location for one goal: deliver the best IT training possible. The daylong event was full of interactive presentations and contests aimed at engaging and inspiring the IT instructor team in achieving this goal. In support of this, the event also offered a platform for instructors to share their experiences and recommendations.
The summit began with a riveting intro led by Rubel Khan. Rubel is the IT and NetApp Program Manager for Unitek Education's IT Training division. Krystal K. then took the lead with an upbeat discourse. Her dialog covered the need for Unitek Education to have a "Go Green Campaign".
The IT Operations and Accounting teams walked the instructors through company practices, accounting protocol, and payment processes. The morning session ended with an open forum led by Rubel Khan.
More engaging instructor learning sessions followed in the afternoon, as new speakers took to the stage. John Gottardi, IT Sales Manager, met with the trainers to encourage more interaction between the IT Sales team and the instructors in creating custom solutions for key corporate clients. Mher S., Marketing Manager, then brought the instructors up to date on current marketing initiatives.
In closing, the COO of Unitek, Navraj Bawa, who is the star advocate of the "Complaint as a Gift" mantra, gave an inspiring speech on the power of customer feedback and how now more than ever, the Customer is King. He was joined by Paul Afshar, CEO, who presented the IT and NetApp Instructor of the Year awards.
About Unitek Education
Unitek Education excels in providing need-based IT learning to corporate clients and certification training to IT career oriented individuals. Our strong focus on quality and customer service has been crucial to our success. This focus has helped us in expanding our client base to all 50 US states and over 40 countries worldwide. Headquartered in the heart of Silicon Valley in sunny California, Unitek Education offers IT training to thousands of clients nationwide. Unitek Education holds the honor of being the only IT training vendor in the United States, that has achieved the dual status of Microsoft Gold partner for learning solutions (Gold CPLS) and Cisco Learning Partner (CLP). Unitek Education is also an award-winning Citrix Authorized Learning Center (CALC) and a NetApp Learning Partner. Microsoft and CRN have also recognized Unitek Education with Learning Partner of the Year awards. For media enquiries, please contact Rubel Khan at rubelk(at)unitek(dot)com or call 1-888-825-6273.
# # #