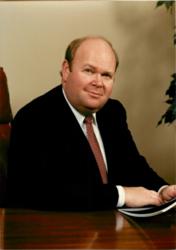 "He has been a leading voice in shaping our industry and this association. Oris defines the best of who we are."
Washington, DC (PRWEB) October 07, 2011
The Airports Council International – North America (ACI-NA) Board of Directors today announced that Oris W. Dunham Jr., first director general of Airports Council International is the recipient of the 2011 William E. Downes Jr. Memorial Award.
"I can think of no one more deserving of this award than Oris," said Frank Miller ACI-NA Board Chairman and aviation director, City of San Antonio Aviation Department. "He has been a leading voice in shaping our industry and this association. Oris defines the best of who we are."
Next year will mark 50 years that Dunham has been in the aviation industry.
"Oris is respected by airport officials not only in the United States but throughout the world," said ACI-NA President Greg Principato. "An aviation management pioneer and a visionary, Oris' commitment to the industry and his leadership have helped lay the foundation for effective international representation in the airport industry, and really to establish airports as a truly global industry with a global voice."
The Downes Award is presented by ACI-NA to an individual who has demonstrated outstanding leadership in promoting the cause of airports and aviation throughout the local, national and worldwide communities. The award, which commemorates the three-time aviation director, is the highest honor given by ACI-NA.
After a career in the air force and a 10-year stint in aviation engineering and sales, Dunham was appointed Director of Aviation for Seattle-Tacoma International Airport. He then moved on to Deputy Executive Director for operations and administration of the Los Angeles Department of Airports, and finally was appointed Executive Director of Dallas/Ft. Worth International Airport. Dunham now operates an aviation consulting and development business internationally.
In addition to serving as Chairman of multiple organizations, including Airport Associations Coordinating Council (AACC) and Airport Operators Council International (AOCI), Dunham has been extensively involved in community and aviation related committees, including the Washington State International Tourism Committee.
Some of Dunham's major accomplishments include the renovation of LAX in preparation for the 1984 Olympics and helping to establish the Passenger Facility Charge (PFC) in 1990.
The award will be presented in San Diego during the 20th ACI-NA Annual Conference and Exhibition.
The first Downes award was presented in 1978. Recent honorees include:

2008, Walter Burg, former Tucson International Airport CEO;
2009, Paul Gaines, former Salt Lake City International Airport's Director and former CEO of the Houston Airports System;
2010, William "Bill" DeCota, former Port Authority of New York and New Jersey Aviation Director.
The complete list of winners is available on the ACI-NA website.
About ACI-NA
Airports Council International - North America represents local, regional and state governing bodies that own and operate commercial airports in the United States and Canada. ACI-NA member airports enplane more than 95 percent of the domestic and virtually all the international airline passenger and cargo traffic in North America. More than 350 aviation-related businesses are also members of the association, which is the largest of the five worldwide regions of Airports Council International.
###