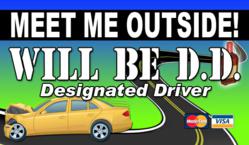 At the end of the day, I don't want people to get DUIs. ~ Seanna Smallwood
Waldorf, MD (PRWEB) October 07, 2011
The Maryland Independent recently completed an article in the "On the job with... " section of their September 16, 2011 Edition featuring safe driving entrepreneur, Seanna Smallwood.
For safety's sake: When not selling homes, one local woman is seeing to it that those who had a bit too much to drink have a safe ride home.
Real estate agent Seanna Smallwood of Waldorf started Will Be Designated Driver, a nonprofit program that opened alongside a for-profit program called Will Do Interlock, a business that installs interlock ignition devices, which require drivers to breathe into a Breathalyzer and prove they are not drunk before their cars will start.
The Maryland General Assembly passed a law requiring drivers with more than one charge of driving under the influence, drivers whose blood-alcohol levels exceed 0.16 (the legal limit is 0.08) and drivers who refuse to take a Breathalyzer test to use the interlock devices.
Seeing a push in legislation for more use of the interlock devices, Smallwood and her business partner opted to start a company that would install them.
At the same time, Smallwood began to discover a need for people in the area to have a safe ride home after drinking.
Isn't it ironic?: Smallwood sees the irony in selling and installing devices for people who have gotten DUIs and at the same time providing a service to keep people from getting in a position where they would need the interlock device, but at the end of the day, "I don't want people to get DUIs," she said.
Will Be Designated Driver operates with four drivers and currently one van.
The drivers alternate — ensuring that there is always a driver available 24 hours a day, seven days a week.
Smallwood said customers can call in advance, which is the most effective method, to get a ride to and from a bar, restaurant or any place where the customer will be consuming alcohol and will require a ride home.
The fee, which pays for gas and maintenance of the van and other costs for the service, is $2 a mile and the service runs anywhere within a 50-mile radius of the company, located in Waldorf.
The service is free for impromptu callers, such as a bartender who calls for a customer who made it to the bar but shouldn't drive himself home. Bar owners and alochol manufacturers can purchase Corporate Sponsorships that will provide "Tokens" for the service to their customers, as well. It's a well designed niche with proven life-saving counter-measures for alcohol-impaired driving.
Smallwood recently partnered with DrinkingandDriving.org in California and has successfully launched an expansion program, nationwide. The next Charter will be in the location of Broomfield, CO. Smallwood says the "Business in a Box" is a complete tool-set for starting the service anywhere in the U.S.
Since it opened in May, 2011 Smallwood said Will Be Designated Driver has kept 152 intoxicated drivers off the roads.
GRETCHEN PHILLIPS, Editor and Staff Writer with Southern Maryland Newspapers published a similar article, (Phillips, Innovative Company, Sept. 16, 2011).
###