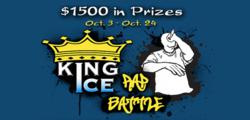 We love hip hop at KingIce so we decided to host a rap battle to celebrate hip hop and interact with the public at the same time
Los Angeles, CA (PRWEB) October 06, 2011
KingIce, a leading internet retailer of hip hop jewelry, is hosting a $1500 rap battle. Contestants will be asked to create a rap video using beats of their choice and upload it to Youtube.com. The rappers will be featured on KingIce's Facebook page where the videos with the most likes will be sent to a panel of KingIce staff members to be judged. The final selections will include 1st, 2nd and 3rd place winners. The awards will be in the form of gift certificates to be used on KingIce.com. 1st place will win $1000, 2nd place will win $400 and 3rd place will win $100.
The rap can be about any subject but must make mention of KingIce in the song. The Youtube video must also include "KingIce.com Jewelry Rap Battle Contest" in the title, description and tags. The contest will start on 10/3/2011 and end 10/24/11, 11 am PST.
"We love hip hop at KingIce so we decided to host a rap battle to celebrate hip hop and interact with the public at the same time," said Mo Gutierrez. " The response has been strong and we expect to uncover some real talent."
The winners will have their videos distributed throughout the KingIce network via email, Facebook, Twitter and Youtube. Videos will also be featured on the KingIce blog in addition to other pages on the KingIce website.
Everything at KingIce comes with a 90-day warranty. KingIce features the latest in bling style hip hop jewelry including earrings, chains, pendants, rings, watches and accessories as well as a line of urban apparel including shirts and hats. KingIce is focused on providing valued customers with quality merchandise, great customer service and fast shipping with a generous warranty. For more information, call 1-877-KING-ICE, email sales(at)kingice(dot)com or visit KingIce.com.
To learn more about contest rules, go to:
http://www.facebook.com/OfficialKingIce
http://www.kingice.com/blog
# # #