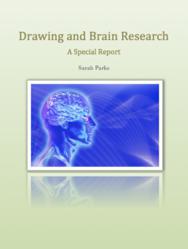 This special report clarifies and supports the link between learning to draw and creativity in other areas of life.
Chesapeake, Virginia (PRWEB) October 06, 2011
"Drawing Secrets Revealed," an online drawing course by Sarah Parks, Fine Artist, presents "Drawing and Brain Research," a special report that clarifies and supports the link between learning to draw and creativity in other areas of life. It is widely acknowledged by members of academia as well as those in business that while the "straight-A" student is admirable, the more desirable job candidate is one who is well-rounded, has experience in a variety of disciplines and activities, has developed interests in diverse areas, and can get along well with different kinds of people. This ideal candidate is well-rounded because of creativity-enhancing right-brained activities balancing out the analytical, mathematical, organized left-brained activities.
In this age of severe educational budget cuts and panic about test scores, the arts are suffering. But many educators believe strongly in the value of the arts and want to encourage students to engage in more than simply math and science classes. "Drawing Secrets Revealed" is a 12-part online drawing video series teaching people to draw using an organized, methodical, and highly effective system, which one can learn about by visiting the lesson previews on Sarah Parks' YouTube channel. This course can be a less expensive professional training for art teachers as well as a cost-effective way to train students to think "outside the box" to better compete in the global marketplace.
Examples of right-brained activities include painting, ceramics, building, designing, sewing, landscaping, graphic design, decorating, and website design.
There seems to be a definite link between learning to draw and enhancing creativity in other areas of life. Drawing encompasses many skills and mental faculties that translate to other life tasks. Spatial ability is honed which is useful in many situations, such as effectively staging a home to make it more likely to sell in today's tough real estate marketplace. One of the examples presented in "Drawing and Brain Research" concerns Dorothy Barak, founder of Specialty Showrooms, who first developed the use of vignettes, or small staged areas, to showcase appliances and furniture in a real-world setting, a tactic now used across the globe in appliance and home furnishing stores. When a person draws, that person is constantly gauging the distances between and within objects and then applying what he or she sees onto the paper. Even if a person has struggled in the past, learning to draw according to an organized, comprehensive instruction plan can make it possible to visualize in ways he or she never could before.
Drawing and painting can facilitate the development of a "big-picture" mentality if a person is naturally inclined to get tangled up in the details of life. Adopting this "big-picture" standpoint can provide perspective in steps to take to change a situation and appropriate approaches to difficult problems. Drawing forces the mind to back up from that mass of details and see the larger lines and broader connections that help a person place those details into an orderly composition.
Learning to draw can also help a person become more detail-oriented, which is especially useful if that person tends to see the big picture easily but gets lost in the "how to" to make that big picture a reality. Drawing trains the mind not only to see the entire subject being drawn, but also telescope in on the details that make up that composition.
Many businesses across the world have embraced this right-brained brand of creativity in their regular and widespread use of thinking maps and diagrams, whereby problems are solved creatively, relationships with consumers and partners are established and strengthened, and new paths are cut through the jungle of global commerce.
# # #