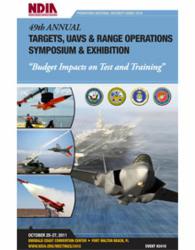 Engage with industry leaders, learn about new approaches and cutting edge developments in training and testing.
Arlington, VA (PRWEB) October 06, 2011
Recognized experts from Government, Military and Industry will convene in Fort Walton Beach, FL on October 25th-27th to showcase the latest developments in Targets, UAVs and Range Operations. Full details of the 49th Annual Targets, UAVs & Range Operations Symposium & Exhibition may be viewed at http://www.ndia.org/meetings/2410.
Highlights of the event will include Keynote Addresses by:
---Major General David J. Eichhorn, USAF, Commander, Air Force Operational Test and Evaluation Center, Kirtland AFB
---Mr. Dyke Weatherington, Deputy Director, Unmanned Warfare, Portfolio Systems Acquisition, Office of the Under Secretary of Defense (OUSD) for Acquisition, Technology and Logistics (AT&L) and the Office of the Assistant Secretary of Defense for Acquisition
As threats and weapons systems evolve and robotics become continually more prominent in warfare, training and testing for these advanced scenarios become increasingly critical. Questions of threat replication and fidelity versus the realities of cost and funds availability make the planner's role in product selection challenging.
Attendees can engage with speakers, learn about options and new approaches, and hear presentations on cutting edge developments to counter these challenges, such as:

Standardizing interfaces of joint control systems;
The role of microrobotic air vehicles;
Testing of new target technologies on U.S. and allied ranges; and
The challenges of making these systems affordable for the end user.
The Willis Howard Award will be presented to the person who, in the view of the Executive Board, has demonstrated both sustained superior service within the communities now represented by the NDIA Targets Division, as well as active service to the Division.
The event will also host a golf tournament to raise funds for the Hubert D. Harris Scholarship Fund.—presented annually to deserving high school seniors from across the nation who will be entering an accredited four-year university in pursuit of a math, engineering, or hard science degree. This year, nine students will be awarded with scholarships.
Industry will have the opportunity to display their products in the exhibit hall. Booths may be reserved online at http://www.ndia.org/exhibits/2410 or by contacting Mrs. Alden Davidson, CEM, Associate Director, at adavidson(at)ndia(dot)org.
The National Defense Industrial Association (NDIA) is America's leading Defense Industry association promoting national security. NDIA is proud to provide a legal and ethical forum for the exchange of information between Industry and Government on National Security issues. Our members foster the development of the most innovative and superior equipment, training, and support for the warfighters and first responders represented by our Divisions.
###