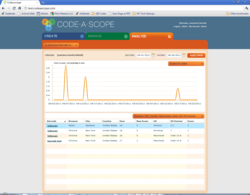 Codeascope tracks each time someone scans a QR Code and offers extensive analytic reports
Brooklyn, NY (PRWEB) October 18, 2011
Use of QR Codes has exploded in the past year, but without a tool to track who's scanning them, it's difficult to know how effective they are in the real world. Codeascope tracks each time someone scans a QR Code or DataMatrix and offers extensive analytic reports, both on individual barcodes and on barcode collections.
Additionally, Codeascope supports over 50 other barcode types, including ISBN, UPC and Code 39. Every barcode standard has its own set of specifications and requirements, and Codeascope makes it easy to manage all those requirements in one simple interface.
"Codeascope is an enterprise level, feature-rich tool that enables companies to manage all their barcode needs in one location," said Codeascope founder Lawrence Horwitz. "Whether you're creating one QR Code or ten thousand of them, Codeascope will help you organize, manage and track them across an organization."
The tool also offers multiple logins for different users within a company, and allows users to share barcodes with each other. "It's usually one person in a company who has the expertise they need to make the barcodes," says Horwitz. "With Codeascope, we make it easy for the expert user to make the barcodes and then share them with other users in the company."
Codeascope is a new startup dedicated to creating outstanding, enterprise level tools around barcode management. New users can learn more at the website, or sign up free and start using the tool today.
###