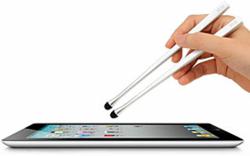 Chopstakes came about as a direct result of needing both pinpoint accuracy and multitouch capabilities for many different iPad applications, and drawing apps in particular
Sunnyvale, CA (PRWEB) October 07, 2011
IPEVO, Inc., a designer and maker of products for emerging Internet-driven behaviors, has announced the release of its newest product, Chopstakes Multitouch Styli for Apple's iPad. The IPEVO Store (http://www.ipevo.com) will serve as the exclusive retailer for the product, which will be available for purchase starting now at a price of $34.95 and $44.95 for the respective sizes.
Chopstakes were designed to emulate fine writing instruments in order to enhance everyday iPad use. Chopstakes come as a pair, and are intended to be held with one in each hand simultaneously. In this way, multitouch functions and gestures can be accomplished with the styli acting in tandem. Alternately, Chopstakes can be held with both in a single hand, like chopstick utensils, in order to perform quick multitouch operations.
A forged aluminum alloy serves as the base material for Chopstakes. Each stylus is weighted to provide an optimal balance and feel in the hand. The soft rubber tips at the end of the styli are specially formulated for the iPad's touchscreen, and are designed to perform with a high degree of accuracy and fine control for such gestures as tapping, sliding, dragging, and pinching. Each set of Chopstakes comes with a custom, semi-translucent carrying case for portability.
"Chopstakes came about as a direct result of needing both pinpoint accuracy and multitouch capabilities for many different iPad applications, and drawing apps in particular," said Royce Hong, CEO and big head of design of IPEVO. "In drawing apps, you often need very fine control for detail work that fingers alone cannot accomplish. You also need to rotate, drag, spin, and zoom images as you work on them, multitouch functions which are difficult to achieve with a single stylus. Chopstakes is our solution to both of these touchscreen challenges."
Two lengths of Chopstakes are available: a Type S at 6.9 inches (175mm), and a longer Type L at 9.3 inches (235mm). While the choice of length depends primarily upon preference and use, the Type L Chopstakes are long enough to double as pointing devices in teaching or presentation contexts.
Chopstakes Multitouch Styli for iPad will be available through IPEVO's online store at http://www.ipevo.com. Everyday free shipping is available for orders of $50 or greater.
About IPEVO
IPEVO designs and sells innovative products to enrich today's connected lifestyle. Catering to consumers, business professionals, and educators, we recognize the immense potential of new technologies to help people create, teach, learn, and inspire. From classroom to living room to conference room, IPEVO is dedicated to making technology more available, accessible, and affordable for all.
For more information, visit http://www.ipevo.com.
###