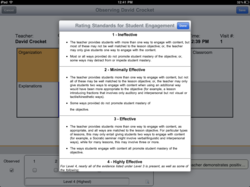 International opportunities are not changing our strategy- they're extending it.
Nashville, TN (PRWEB) October 07, 2011
While RANDA Solutions' TOWER System and TOWER Mobile is becoming widely embraced throughout the U.S., foreign interest in the teacher evaluation solution is rapidly increasing. Hot on the heels of a successful pilot program in Santiago, Chile, requests from International Baccalaureate schools in eight foreign countries are leading RANDA to make TOWER available in several languages.
"We recognized there would be both interest and need in foreign countries for a solution like TOWER— but the level of interest has honestly surprised us. It's exciting," says Rod Berger, PsyD, RANDA's Vice President of Education. RANDA was quick to respond to the pleasant surprise. Within weeks, RANDA's development team delivered versions of TOWER in Spanish and Portuguese, and a Japanese version is under development.
Additionally, RANDA is announcing TOWER's contracts to school systems in Finland and Germany for Fall 1011. Berger further commented, "All this interest is leading me to develop more articles related to international issues in the coming months." Dr. Berger hosts "The Core of Education" at http://blog.randasolutions.com, where a number of teacher improvement topics are discussed.
Even while TOWER is embraced internationally, RANDA's focus has not diminished their attention to delivering TOWER's rubric-agnostic teacher evaluation system in their own backyard. Earlier this week, RANDA announced an agreement allowing them utilize the TEAM rubric on TOWER, Tennessee's "gold standard" for teacher evaluations. This development helps administrators manage the increasing observation demands related to Tennessee's First to the Top initiatives.
The TOWER System and TOWER Mobile for iPads and Android devices holds a number of innovative features and patent-pending technology. TOWER was developed with educators to achieve several simple benefits to educators:

A paperless teacher evaluation system that saves time and resulting data is immediately usable.
Easily manageable observation scheduling and progress monitoring.
TOWER's System and TOWER Mobile is simple to learn and intuitive.
RANDA's Mobile iPad and Android apps sync to TOWER System – observations are performed whether Wi-Fi coverage is available or not.
Clients provide their own rubrics and walkthrough forms, so their options are not limited
"International opportunities are not changing our strategy-- they're extending it," says Randall Dennis, RANDA's Chief Strategy Officer. "It requires we extend our hours to support clients in places like India, Germany and the UAE. But this offers us the opportunity to utilize some of the multilingual talents already resident in our technical team. We enjoy a good challenge like this."
Information on RANDA's TOWER System and TOWER Mobile can be obtained by calling 877.314.1412. A brief video on the Benefits of TOWER is available on YouTube: http://www.youtube.com/watch?v=uzIkQtHPX6s
RANDA Solutions is an INC. 500 software firm based in Nashville, TN serving the education sector. RANDA's tools for administrators and teachers aggregate and manage many types of education intelligence including standardized testing results, formative assessments, teacher evaluations and demographics. Historical and live data reporting, along with additional customized content, is delivered via RANDA's secure web portals and integrates seamlessly with RANDA's cross-platform mobile applications for iPads and Android devices. Information on RANDA can be found at http://www.randasolutions.com.
###