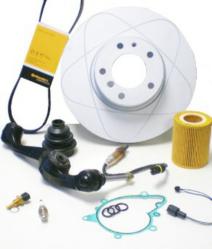 Riverside, CA (PRWEB) October 07, 2011
AutoBahn German Parts is know for their commitment to top quality BMW OEM brands like Lemfoerder, Sachs-Boge, Textar, Brembo, Luk, Bosch, Siemens VDO etc. but few have heard of the specialty companies that set out to cure different types of problems other than worn out replacement parts. There are several highly specialized companies that take up the task of re-engineering parts that commonly fail and address certain design flaws the original manufacturer has not yet addressed. In many cases, this creates a part that is better than the OEM part. AutoBahn has recently product tested and currently stock parts by 2 of these companies, URO (pronounced Euro) and Meyle.
Meyle is a German owned company that has built their business on re-designing flawed components or simply making the replacement parts that no other company (including the dealer) are making. Their strongest area of automotive expertise is steering, suspension and chassis components. Meyle control arms are indestructible and their control arm bushings are second to none. In many cases, they are better than the originals in construction, durability and material composition. AutoBahn examines the Meyle replacement ball joints for E36. Originally, all E36 3-series (1992-1998) required replacement of the entire control arm when the lower ball joint wore out. This proved to be very time consuming and expensive to replace. Since a replacement ball joint was not available separate from the control arm from BMW, Meyle created one. Its construction consisted of a solid metal core that should outlast the rest of the car thus saving the owner the price of replacing the entire control arm.
URO products are another great German owned problem solving company. They specialize in the little components that no one else is making therefore forcing you to buy those parts from the BMW dealer. URO has a full line of items like window switches and engine breather hoses at prices nearly half of dealer list price. Our favorite items by URO are their window regulators. Window regulators are a common failure and BMW window regulators sold at the dealer usually include the motor that is not faulty most of the time. This can drive up the price considerably. URO offers regulators with and without the motor and at a fraction of the price of the dealer. For example, AutoBahn German Parts is able to offer an E46 window regulator that fits 1999-2005 325i, 328i, 323i, and 330i for half the price of the dealer!
While AutoBahn German Parts strives to provide the best quality OEM BMW parts available on the market today, they also realize there is another need to be filled. That is why they seek out products and test great brands like URO and Meyle. Whether it is OEM replacement parts or a specific problem part, AutoBahn German Parts is there to fill the needs of a rapidly changing automotive aftermarket.
###