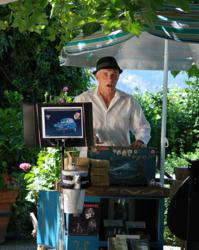 Michelis will play a repertoire of Edith Piaf-inspired songs on his barrel organ - l'orgue de barbarie.
Rutherford, Napa Valley (PRWEB) October 06, 2011
Michel Michelis will entertain visitors to Napa Valley's Swanson Vineyards in the winery's sycamore-shaded courtyard on Saturdays in October (10/8, 10/15, 10/22, 10/29) from 1:00 to 4:00 p.m. Michelis will play a repertoire of Edith Piaf-inspired songs on his barrel organ---l'orgue de barbarie. Visitors who chat with him will recognize his voice from the character he voiced in the movie Cars 2; he's also well-known in the Bay Area from his involvement with Cirque du Soleil and his French gypsy band.
Wine lovers who visit the winery's Sip Shoppe or Salon, located at 1271 Manley Lane in Rutherford, can enjoy Michelis' tunes as a gratis element of their tastings. The Sip Shoppe welcomes guests by appointment for self-guided wine tastings; The Salon welcomes guests for seated tastings by appointment. Please call 707/754-4018 to make arrangements.
Swanson Vineyards was founded by W. Clarke Swanson in 1985. The winery is family-owned and operated and takes a unique approach to hospitality in its two tasting rooms. The Sip Shoppe is open Thursday – Monday: guests can taste inside, in a space dramatically draped with red-and-white striped circus-style canvases and stone gargoyles---or outside, in a gracious patio. Tastings offer an assortment of tastes and treats, served with whimsy and style in charming glassware.
The Salon, which opened in 2001, offers three seated wine tastings Wednesday –Monday. Its distinctive setting includes bright coral walls and the Vineyard/Peasant Series of Ira Yeager paintings; tastings include the winery's rare small-production wines enhanced by accoutrements including the winery's proprietary caviar and chocolate bonbons as well as artisanal
cheeses.
Current releases include 2007 Oakville Merlot, 2007 Oakville Alexis Cabernet Sauvignon, 2009 Napa Valley Pinot Grigio and the line of Modern House wines, available only at the winery or online, consisting of Merci, Just Married, With Love, Mazel Tov, Swell Swill, Lucky Night, Please Forgive Me, Thrilled For You and Instant Bon Vivant. Also available only at the winery in Napa is a group of sweet wines----Angelica (nonvintage), 2006 Crepuscule Late Harvest Sémillon, 2007 Arsene Fortified Petite Sirah and 2007 Tardif Late Harvest Chardonnay. Other wines made in very small production available only at the winery are 2007 Face Cabernet Sauvignon, 2006 Salon Sangiovese, 2006 Salon Petite Sirah, 2010 Salon Chardonnay and 2006 Limited Production Salon
Cabernet Sauvignon.
###