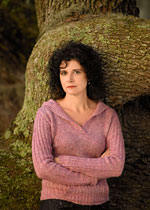 ...Math is everywhere. Why shouldn't teachers take advantage of it?
Gainesville, Florida (PRWEB) October 10, 2011
Mystery novelist Mary Anna Evans uses her engineering education to make math fun. "Geometry Sleuthing in Literature," written with Faith Wallace, appears this month in "Mathematics Teaching in the Middle School," a journal published by the National Council of Teachers of Mathematics. Their book "Mathematical Literacy in the Middle and High School Grades" takes teachers past their texts, helping them bring reading materials as varied as blogs or poems in their classrooms.
"My late father always said, 'No education is ever wasted,'" says the award-winning novelist. "I believe that." As evidence that her father was right, Evans is working with educators to help improve math and science education, years after she put her engineering license aside in favor of writing mystery novels. Both the article and the book, co-written with young adult literacy specialist Dr. Faith H. Wallace, draw from both areas of Evans' work - writing and the sciences - using popular fiction to teach kids math.
For a free download of "Geometrical Sleuthing," click here.
Evans studied physics and engineering in college, but she thought she'd left thermodynamics and differential equations behind when she published her first novel, an archaeological mystery called Artifacts, in 2003. She was not prepared for the email she received from her high school geometry teacher, saying, "You've got geometry in this book!"
"I told her that I most certainly did not, and she wrote back immediately, saying, 'Check page 200.' And there it was, a perfect example of a translation in a Cartesian plane, cleverly disguised as a mystery story. I knew I didn't put math in the book on purpose, and nobody but a geometry teacher would ever even notice it was there, but I learned two important things. First, who you are affects what you write. And second, math is everywhere. Why shouldn't teachers take advantage of it?"
Soon after that realization, Evans was speaking to teachers about how to use popular literature to make math and science fun and, through this work, she met Dr. Wallace. Their book, the culmination of five years of collaboration, features a wide range of reading material for math teachers to use as classroom resources, including excerpts from two of Evans' books, Artifacts and Effigies. This month's article in Mathematics Teaching in the Middle School features an excerpt from Artifacts, accompanying a hands-on exercise showing how to use it to teach translations in a Cartesian plane... and that excerpt comes from page 200.
"When we do that exercise in the classroom, the kids stand up and move around, actually pacing off the x- and y-coordinates. They get excited. And you can tell they understand the material by the way they move around the room and by the questions they ask," Evans says. "We took that exercise and developed more hands-on examples like it for our book. We think teachers and kids will have fun with them, and we think they'll learn. How cool is that?"
Sample classroom exercises and high-resolution downloadable photos are available on Evans' website.
# # #