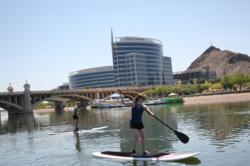 This fall, visitors can enjoy new ways to explore the outdoors in Tempe, Arizona.
Tempe, AZ (PRWEB) October 06, 2011
This fall, visitors can enjoy new ways to explore the outdoors in Tempe, Arizona. Tempe's many outdoor recreation attractions, such as Papago Park, Tempe Town Lake and "A" Mountain will be more accessible and exciting with the new Tempe Crosscut Canal Multi-use Path and Tempe Town Lake Pedestrian Bridge. Outdoor enthusiasts and visitors who just want to enjoy the sunny Arizona weather can learn more at http://www.TempeTourism.com.
Scheduled to open October 18, the new Tempe Town Lake Pedestrian Bridge will connect the northern and southern shores of the lake. Runners, walkers and cyclists will now have an alternative bridge to cross the lake and will not have to compete with cars. The eye-catching design features graceful arches and suspension cables that crisscross to create geometric shapes. Balancing 165,000 pounds and 228 feet of cables and steel, PCL Construction staff lifted and placed the first section of the Town Lake Pedestrian Bridge on May 16. The Pedestrian Bridge is not only a great way for people to be able to cross Town Lake from the west end, it also has an important safety function – to cool and shade the rubber dam that holds back the waters of Tempe Town Lake.
Tempe Town Lake and Papago Park are now connected via the newly completed Tempe Crosscut Canal Multi-use Path Phase II. This one-mile, walking and biking path connects to the existing 1.25 mile Crosscut Canal Multi-use Path Phase I project, completing a critical link in the Valley's pedestrian/bicycle system by connecting Tempe with the neighboring city of Scottsdale. Visitors can now easily travel from north Tempe to Tempe Town Lake, into downtown Tempe and the Metro light rail system. Providing breathtaking views of the Papago Park and the City of Tempe, the new crosscut canal path also features desert landscaping, solar lighting and a public art element. Project artist, Mary Lucking, designed all three bridges, pavement patterns and influenced the overall character of the project.
Tempe Town Lake now offers the chance to experience stand-up paddleboards. Visitors can rent a paddleboard from Tempe Boat Rentals, and after a quick lesson, they'll be ready to try this fun sport for themselves. Kayaks, pedal boats, hydrobikes and other boats are also available. Prices range from $15 per hour for a 2-person pedal boat or single kayak to $20 per hour for a paddleboard to $75 per hour for an electric surrey or pontoon boat.
Located just steps away from Tempe Town Lake in the heart of downtown Tempe, the Tempe landmark "A" Mountain has been added to the National Register of Historic Places. This mountain, also known as Hayden Butte, is located in the downtown Mill Avenue District. It is the highest geographic point in Tempe. There is an "A" on the summit, which stands for Arizona State University (ASU). This is a popular hiking spot today, but it was home to the Hohokam Native American tribe who built the Valley's first irrigation canals and farmed the area between A.D. 300-1400. Petroglyphs left by the Hohokam can still be viewed from the hiking trails. Also, ASU's Sun Devil Stadium is built into the mountain's east side.
For more information about outdoor adventures in Tempe, visit http://www.TempeTourism.com or call 1-800-283-6734.
About Tempe Tourism Office
The Tempe Tourism Office is a non-profit organization devoted to marketing Tempe, Arizona as a desirable visitor and group destination site. The Tempe Tourism Office's mission is to provide visitors, media professionals and meeting planners with information on Tempe hotels, Tempe restaurants, Tempe entertainment and local points of interest. To learn more about Tempe, Arizona please call 480-894-8158 or 800-283-6734 or visit http://www.TempeTourism.com.
# # #