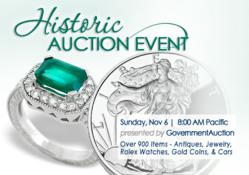 Tehachapi, CA (PRWEB) October 27, 2011
Government Auction announces over 900 items to be liquidated in this exclusive auction event. All items sold to the highest bidder with bidding starting as low as $1. Items to be auctioned include; Rolex Watches, Rare Antiques, Jewelry, Gemstones, Antiques, Gold & Silver Coins, Art, GIA Diamonds, Movie Memorabilia, Sports Memorabilia, and Slot Machines.
Plus special feature 200 pieces Seized Properties to include parcels from 1 acre to 640 acres located in areas such as, Hawaii, California, Texas, Arizona, Florida, Nevada, Wyoming, Canada, Oregon, and New Mexico.
To view this auction please click the link below:
Historic Auction Event - Bidding Starts as Low as $1 - Sun, Oct. 30 - 8:00 AM PST
http://www.liveauctioneers.com/catalog/26706
About GovernmentAuction.com
GovernmentAuction.com is a private company, the largest company of its kind to acquire literally thousands of properties and assets. In most cases we acquire these properties and assets at 10% - 30% of actual retail value. This enables potential buyers throughout the world to buy land and invest in assets at discounted pricing.
Contact Info:
Paul Sabesky
Marketing Representative
GovernmentAuction.com
Phone: 661-821-2159
# # #