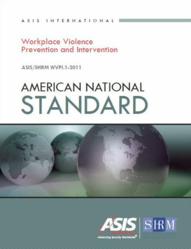 It helps to answer the tough questions many security, HR, and legal professionals need to ask: 'Are we doing enough?' and more importantly, 'Are we doing the right things?'"
Alexandria, VA (PRWEB) October 05, 2011
ASIS International and the Society for Human Resource Management (SHRM) today issued a joint ASIS/SHRM Workplace Violence Prevention and Intervention American National Standard aimed at helping organizations implement policies and practices to more quickly identify threatening behavior and violence affecting the workplace, and to engage in effective incident management and resolution.
The new Standard reflects a consensus from professionals in the fields of security, human resources, mental health, law enforcement, and legal. It serves as an important tool to help organizations evaluate current practices; develop or enhance workplace violence prevention and intervention programs; and effectively manage post-incident issues.
"Practitioners can use the Standard to evaluate whether their organization is taking sufficient steps to protect employees from a wide range of problematic behaviors that can compromise workplace safety," said Rebecca A. Speer, Esq., founder and principal, Speer Associates and chair of the Workplace Violence Prevention and Intervention Standard Committee. "It helps to answer the tough questions many security, HR, and legal professionals need to ask: 'Are we doing enough?' and more importantly, 'Are we doing the right things?'"
The Standard defines the recommended scope of an organization's efforts to prevent and manage workplace violence; describes the key stakeholders within an organization who will be responsible for this issue; delineates the components of a workplace violence prevention and intervention program; outlines intervention techniques; and addresses post-incident issues.
"On behalf of the membership, SHRM has been very pleased with the outcome of this partnership with ASIS," said Lee Webster, JD, MBA, SPHR, GPHR, director of HR Standards, SHRM. "Through this relationship the HR and the security communities have created an enduring and comprehensive approach for business professionals to manage the risk of violence and to better assure the safety of employees under their charge. There is no higher duty for HR professionals, which makes this work so gratifying."
The Standard's requirements and recommendations are broad in order to provide the necessary flexibility organizations will need to implement specific prevention and intervention strategies appropriate for their workplace needs.
All ASIS Standards and Guidelines are available through the ASIS website, http://www.asisonline.org.
The work of preparing ASIS Standards and Guidelines is carried out through the ASIS International Standards and Guidelines Commission and its committees. An ANSI accredited Standards Development Organization, ASIS actively participates in the International Organization for Standardization, developing standards and guidelines within a voluntary, nonproprietary and consensus-based process, utilizing the knowledge, experience and expertise of ASIS membership, security professionals and the global security industry. View a list of all Standards and Guidelines currently under development.
ASIS International is the preeminent organization for security professionals, with more than 37,000 members worldwide. Founded in 1955, ASIS is dedicated to increasing the effectiveness and productivity of security professionals by developing educational programs and materials that address broad security interests, such as the ASIS Annual Seminar and Exhibits, as well as specific security topics. ASIS also advocates the role and value of the security management profession to business, the media, government entities and the public. By providing members and the security community with access to a full range of programs and services, and by publishing the industry's No. 1 magazine—Security Management—ASIS leads the way for advanced and improved security performance. Visit ASIS online at http://www.asisonline.org.
The Society for Human Resource Management (SHRM) is the world's largest association devoted to human resource management. Representing more than 250,000 members in over 140 countries, the Society serves the needs of HR professionals and advances the interests of the HR profession. Founded in 1948, SHRM has more than 575 affiliated chapters within the United States and subsidiary offices in China and India. Visit SHRM online at http://www.shrm.org.
###