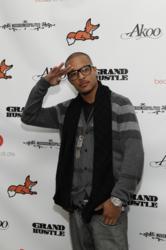 New York, NY (PRWEB) October 05, 2011
On October 2, 2011, stars from the music and TV industry, politicians, athletes and trendsetting celebrities came to support and show their love for AKOO's Co-founder, Grammy award winning artist, actor, and producer, Clifford "T.I." Harris at the first annual "A King of Oneself" brunch presented by men's lifestyle fashion brand AKOO Clothing and Grand Hustle Entertainment. The exclusive, intimate affair was held at The Mansion in Atlanta and was filled with T.I.'s 150 closest personal friends and family.
The much talked about event hosted top national media outlets and celebrity guests that attended from Nelly, Young Jeezy, music mogul Kevin Liles, Jazze Pha, Heavy D, Bravo's Real Housewives of Atlanta Phaedra Parks and husband Apollo Nida, comedian Roland "Lil Duval" Powell, TV personality Antonia "Toya" Carter, Future, Rosco, Ed Lover, Josh Smith of the Atlanta Hawks to former and current Atlanta Mayors Andrew Young and Kasim Reed. During the brunch AKOO Clothing presented a pair of custom AKOO Clothing Beats Pro headphones to T.I. that had "Salute the King" insignia on the outside of the headphones and the AKOO insignia on the inside. A special sweepstakes is being announced October 5, 2011 at 4pm EST offering one lucky T.I. fan a once in a lifetime opportunity to win the AKOO Clothing Beats Pro headphones at AKOO Clothing's Facebook page at http://www.facebook.com/akooclothing.
AKOO Clothing partnered with Grand Hustle to launch the "Salute the King" Campaign where fans recorded and uploaded video messages to T.I. Droves of fans and celebrity friends from Rick Ross, Diddy, Nelly, Big Sean, Lex Luger, Playboy Tre, Young Dro, Killer Mike, Travis Porter, B.o.B, Curtis Granderson, Carl Crawford and Hollywood TV actor Hosea Chanchez uploaded personal video messages of support and encouraging words to the Grammy award winning artist, actor, and producer. With the support of these celebrities and amazing fans this grew to be an international fan-based documentary.
"The first annual "A King Of Oneself" brunch event brought out so many family and friends all showing their love and appreciation for T.I.'s accomplishments. It was a truly heartfelt experience. We will remember this experience for years to come," states Jason Geter, Co-founder of AKOO Clothing and CEO of Grand Hustle Records.
"There was such an overwhelming love for T.I. at the first annual "A King Of Oneself" brunch from the cheerfulness and enthusiasm from the guests. It was so much more than an event; it was a celebration of AKOO Clothing's growth, his book Power and Beauty and to applaud T.I.'s accomplishments. We're already looking forward to next year's brunch and T.I.'s accomplishments!" states Jeff Belizaire, Director of Marketing for AKOO Clothing.
AKOO Clothing is the new Americana fashion go-to brand for top fashion and innovation nationally and internationally. Global trendsetting celebrities, athletes, musicians, and actors have become fans of the brand including Larry King. Some of these prominent fans have even taken it a step further by aligning themselves and their projects with AKOO such as B.o.B, Curtis Granderson, Carl Crawford, Hosea Chanchez, Travis Porter, Tristan Wilds, Meek Mill, and Mickey Factz to name a few. AKOO has been featured in national print publications including VIBE Magazine and GQ, who also named AKOO's founder T.I., one of the "10 Most Stylish Men in America" in their magazine issue.
ABOUT AKOO CLOTHING
AKOO, an acronym for A KING OF ONESELF, is a men's contemporary clothing line that exudes a unique sense of elusive style that is versatile to one's own lifestyle. The brand offers the highest quality of materials and craftsmanship including distinctive prints and fabrics that are unmatched from comfortable denim with custom embroidery, stylish leather jackets, detailed sweaters and durable lightweight tees as well as button downs and polos. AKOO, was founded by Grammy award winning artist, music and film producer, song writer and actor, T.I., and his business partner and Grand Hustle Entertainment CEO, Jason Geter. AKOO is manufactured and distributed by RP55 Group. AKOO is donned by celebrities including actors, musicians and athletes. The brand has been featured on TV, in videos, online, and in print media from around the world. The AKOO Clothing showroom is located at 230 W. 39th Street, 7th Floor, New York, NY, 10018. For more information on AKOO Clothing, visit http://www.akooclothingbrand.com and Facebook via http://www.facebook.com/akooclothing and Twitter via http://www.twitter.com/akooclothing.
For more information and or press interviews, please contact Tamara York at Tamara York Public Relations, email at Tamara(at)tamarayorkpr(dot)com.
# # #