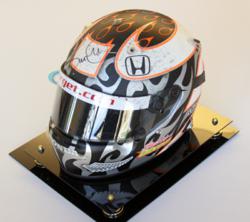 Irvine, California (PRWEB) October 06, 2011
IZOD IndyCar fans have the opportunity to own their favorite IndyCar drivers autographed racing gear by bidding for them through the 'With you Japan' online charity auction at http://www.charitybuzz.com/withyoujapan. Auction Part Two, following the successful Auction Part One, is now live on Charitybuzz.com and offers highly anticipated items including autographed gloves of Helio Castroneves and Scott Dixon's helmet. Proceeds from this event will directly benefit children in Japan who continue to rebuild their lives after the March 2011 earthquakes and tsunami.
All authentic racing gear were worn by the drivers during the exciting IZOD IndyCar race season and beautifully set in display cases.
Auction Part Two: October 6 through October 20.
Auction Part Two will offer gloves and racing gear generously donated by the following drivers: Helio Castroneves, Scott Dixon, Oriol Servia, Ryan Hunter-Reay, Takuma Sato, E.J. Viso, Mike Conway, JR Hildebrand, James Hinchcliffe, Vitor Meira, James Jakes, Sebastian Saavedra, Raphael Matos & Ho-Pin Tung.
The program's effort to launch this online auction began at the Honda Grand Prix of St. Petersburg in March as Takuma Sato, a Japanese IndyCar Driver and Founder of "With you Japan" program, asked IndyCar drivers to show their support by donating their autographed race gloves to auction off to worldwide race fans through Charitybuzz.com. Gloves were originally chosen to symbolize the hands of friendship between the USA and Japan.
This international fund-raising program's mission is to bring attention to the devastating real-life issues thousands of children are experiencing and raising proceeds to empower local childcare professionals provide longer-term emotional, mental and physical care.
"With you Japan" invites racing fans and motorsport enthusiasts to take part in its online charity auction at http://www.charitybuzz.com/withyoujapan.
About With you Japan: http://www.WithyouJapan.org
The 'With you Japan' program was founded by international Indy Race League driver, Takuma Sato, and sponsored by Children Mending Hearts, an American non-profit 501(c)(3) corporation, to bring attention and raise awareness of the long-term support children in Japan will need as they rebuild their lives. It will continue to organize fund-raising events in the coming months and years to raise proceeds to help empower local child-care professionals in Japan to provide appropriate care to thousands of children affected by the catastrophe.
About Takuma Sato:
Born in Tokyo, Japan, Takuma is an accomplished racing driver who won the British Formula Three Championship, raced in Formula One and now competes in the IZOD IndyCar series for the KV Racing Technology Lotus Team based in Indianapolis. Takuma, a father of two, founded the 'With you Japan' program immediately after disaster struck in his native country to give back to his homeland by supporting the young survivors of the catastrophe. He will continue to promote the program at IndyCar races and reach out to children by visiting nationwide schools in the US. For more information, please visit http://www.takumasato.com.
About Charitybuzz:
A leader in cause marketing, charitybuzz (http://www.charitybuzz.com) aligns nonprofits with international brands and celebrity icons to raise funds through innovative online auctions. Featuring pop culture experiences, VIP events, luxury travel, fine art, couture fashion, sports memorabilia and more, charitybuzz brings its online community of socially conscious bidders exclusive opportunities to make a difference. The company enables its bidders to truly doGOOD and liveWELL, generating millions of dollars for charities around the globe.
About Children Mending Hearts:
Children Mending Hearts is an American non-profit 501(c)(3) corporation founded in 2008 by Lysa Heslov and supported by many of Hollywood's top stars. The organization supports children in conflict zones such as Haiti and Congo, and locally in the USA, by helping them find and use their voice through creative expression at Children Mending Hearts workshops. For more information, please visit http://www.childrenmendinghearts.org.
For further information please contact: WithYouJapanCharity(at)gmail(dot)com
# # #