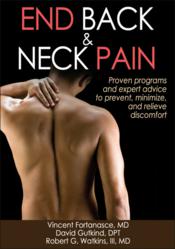 When patients complain of pain, there is a 94 percent chance they will be prescribed a medication and a 50 percent chance the medication will be an opiate.
Champaign, IL (PRWEB) October 06, 2011
Actor Jeff Conaway's recent death may have been ruled accidental, but according to his former doctor, his addiction to prescription painkillers ultimately led to his death. Dr. Vincent Fortanasce, renowned neurologist and author of End Back & Neck Pain (Human Kinetics, 2011), says cases of individuals becoming addicted to pain medications after getting a simple prescription are far too common, and patients need to be more scrupulous when seeking medical attention. "When patients complain of pain, there is a 94 percent chance they will be prescribed a medication and a 50 percent chance the medication will be an opiate," Fortanasce says. "The difference between the opium dens of the early 20th century and some of the pain clinics today is that the den is now called a clinic, and the opium is prescription narcotics."
According to Fortanasce, many spine problems don't require narcotics and can be treated with simple exercises. "Narcotics merely hide the pain and make patients more sensitive to it when the medication wears off," Fortanasce explains. "In time, not only are people addicted physiologically, but narcotics actually decrease patients' own defenses and ability to tolerate any pain."
Fortanasce advises patients to ask 20 simple questions before choosing a pain clinic or physician:
1. Would you feel more comfortable with a man or a woman?
2. Should the physician be older than you, the same age, or younger?
3. Do you have a preference about educational background?
4. Is the doctor board certified? (That is, has the doctor passed a standard exam given by the governing board in his or her specialty?)
5. Where did the doctor go to medical school? (Your local medical society can provide this information, or you can look online at http://www.docboard.org/docfinder.html.)
6. Is the doctor involved in any academic pursuits, such as teaching, writing, or research? (A doctor who teaches, writes, or conducts research may be more up to date in the latest developments in the field.)
7. Where does the doctor have hospital privileges, and where are those hospitals located? (Some doctors may not admit patients to certain hospitals, and this can be an important consideration for older adults with health problems.)
8. Does the doctor accept your health insurance, or is the doctor a member of the medical panel associated with your HMO?
9. Are the doctor's staff members friendly and reassuring? Do they smile and make you feel valued? (Chances are that the staff reflects the personality of the physician.)
10. What are the doctor's office hours? Are these hours convenient for you or the person who is transporting you?
11. During the initial visit, does the doctor conduct a thorough review of your medical history, including medications, past surgery, lifestyle habits, and family history?
12. Does the doctor look at you when greeting you, as though you are a person of value?
13. How much time does the doctor spend on follow-up visits?
14. Does the doctor examine you thoroughly and perform a complete spine exam?
15. Does the doctor order tests readily, or does she or he tend to minimize your concerns?
16. Is the doctor ready to give you a prescription without explaining more about the side effects?
17. Does the doctor return your phone calls?
18. Does the doctor make you feel that your health comes above all else? Alternatively, do you fear that your health care plan dictates the quality of care that you receive?
19. If you need hospitalization, will this doctor still treat you, or will you be delegated to a specialist at the hospital who knows nothing about you as a person? (You must ask your doctor this question.)
20. Does the doctor use specialists to assist in your situation if you request one? (Sometimes health plans discourage physicians from referring patients to other specialists, or the physician may have a bad rapport with other specialists. Both are warning signs to find a new physician or get a new health plan.)
For more information on End Back & Neck Pain or other health and fitness resources, visit http://www.HumanKinetics.com or call 800-747-4457.
###