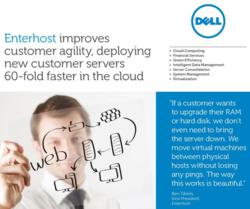 If a customer wants to upgrade their RAM or hard disk, we don't even need to bring the server down. We move virtual machines between physical hosts without losing any pings. The way this works is beautiful. --- Ben Tiblets, Vice President, Enterhost
Fort Worth, Texas (PRWEB) October 06, 2011
After deploying their new cloud computing solutions to customers worldwide, Enterhost, a web hosting solutions and Microsoft® Windows® application specialist founded in 2000, became the subject of a Dell(TM) Inc. Customer Case Study that is now published on Dell's website.
The case study focuses on Enterhost's success in evolving its product line from dedicated, physical servers to include new, dynamic and highly available cloud services.
"If a customer wants to upgrade their RAM or hard disk, we don't even need to bring the server down," said Ben Tiblets, Vice President of Enterhost. In the past, physical hardware upgrades required customers to schedule maintenance. "Now, we can move virtual machines between physical hosts without losing any pings. The way this works is beautiful."
Using Dell PowerEdge blade servers (with Intel Xeon processors) supported by Dell EqualLogic storage arrays for their client service offerings, long-time Microsoft Gold Partner Enterhost worked with Microsoft to design and build the foundation of their cloud platform.
Microsoft's newest, most efficient hosting and software solutions are in a cloud environment based on Hyper-V™ technology. Hyper-V is an integral part of Windows Server allowing customers to transition to the cloud, offering them greater scalability and improved performance, according to Microsoft.
"We enjoyed participating with Microsoft in a proof of concept," said Kevin Valadez, president of Enterhost. "The end result of our efforts is a cloud platform that leaps us over most of our competitors in the field and positions us as a leader in Microsoft cloud services."
Enterhost still believes it is important for customers to know the general detail about the hardware running behind the scene in order to distinguish between cloud services.
"Some of our competitors have big environments running on very cheap hardware, but we want an enterprise-level environment," said Mr. Tiblets. "If a customer asks what hardware our cloud platform runs on, I want to say we're running Dell storage area networks and blade server systems."
Enterhost highlights this information for customers, a move that inspired Dell to feature Enterhost in a Dell Customer Case Study.
The Dell Customer Case Study details Enterhost's enterprise environment, new cloud services and virtualized platform with benefits that also include lower power consumption, 30 seconds to failover for virtual servers, 60 times faster server deployment, and streamlined backups.
A Microsoft Gold Certified Partner, Enterhost is the premier customized cloud solutions provider specializing in Windows applications. With focus on cloud desktop and private cloud services, they also offer disaster recovery and colocation for clients worldwide. Founded in 2000, Enterhost is a leading provider of Windows-only hosting with an experienced Microsoft-certified team of professionals. For more information, visit http://www.enterhost.com.
###