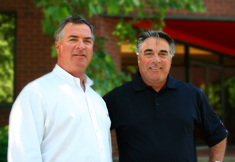 Brownstone likes to solve problems before our brokers and customers have them, and Aspen is a great partner to help meet this expectation.
NORWELL, MA (PRWEB) October 06, 2011
Brownstone Insurance began a partnership with Aspen American Insurance Company ("Aspen") on September 1st, 2011. Aspen's A.M. Best rating is A (Excellent) XV.
Brownstone Insurance has continually grown and improved their services over the course of their 30 year history and this is the next chapter of growth for the company.
This new partnership will allow Brownstone Insurance to increase the depth of service and coverages they are proud to offer their clients and create an innovative environment.
Brownstone Insurance clients can expect to receive formal notification of this new venture when their policy renews.
Brownstone Insurance has been providing master policy insurance coverage for multi-unit properties throughout Massachusetts since 1982. With a combined 68 years experience between the company co-founders, Glenn Montgomery and Wayne Fick, and their 13 employees averaging 12 years of service, the staff of Brownstone Insurance is highly experienced and truly dedicated to helping their local community with their insurance needs.
Learn more about Brownstone Insurance by visiting http://www.brownstoneinsurance.com or by calling (617) 236-6400.
###