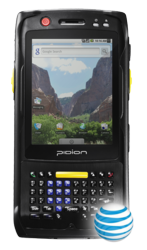 AT&T Certification on the BIP-6000Max opens it up to a wide range of applications and potential uses.
Harmony, PA (PRWEB) October 10, 2011
SDG Systems announced today that the Bluebird Pidion BIP-6000Max has achieved AT&T certification. "AT&T Certification on the BIP-6000Max opens it up to a wide range of applications and potential uses and increases customer confidence," said Todd Blumer, President of SDG Systems. "The BIP-6000Max's rugged design, GSM voice capability and 3.5G (HSDPA) data communications make it a ideal choice for field data collection. Additionally, the Android (AOSP) operating system option, implemented by SDG Systems' engineering team, extends the capabilities of the BIP-6000Max making it a unique, easy-to-use device."
The Pidion BIP-6000Max is a full-featured rugged mobile computer with variety of data collection interfaces including 1D laser, 1D/2D imager and RFID. It includes an 806 MHz Marvell PXA320 processor, 256MB RAM, 3.5" sunlight-readable VGA display and either a numeric or QWERTY keypad. In addition to the AT&T-certified cellular communication, the BIP-6000Max includes 802.11b/g and Bluetooth technology.
Operating system choices for the BIP-6000Max include Windows Mobile 6.1 and Android (AOSP) 2.1. An upgrade to Android 2.3 "Gingerbread" is planned. SDG Systems is supplying the BIP-6000Max to the Defense Information Systems Agency with Android (AOSP) 2.1 for a mobile procurement application, the 3in1 Tool, under GSA contract number GS-35F-0054X. The BIP-6000Max is MIL-STD-810F tested and has a IP65 rating, further demonstrating its ruggedness. The Pidion BIP-6000Max provides a high value-per-feature ratio. Reseller pricing is available.
About SDG Systems
SDG Systems, LLC is a world-wide value added reseller of rugged computing products, providing technical support, complete solutions, software customizations and porting services. SDG Systems is a world-wide leader of implementing Google Android (AOSP) solutions on rugged devices, and has been developing and supporting Linux system software since 2001. Social media connections: @sdgsys and http://www.facebook.com/sdgsystems
About Bluebird Soft
Bluebird Soft Inc. (Bluebird), founded in 1995, is a global provider of handheld mobiles including enterprise and industrial handheld mobile computers, printer-integrated mobile computers, handheld scanners and RFID handhelds. Bluebird HQ and its manufacturing facility are based in Seoul, South Korea, and it operates offices in USA and China to best serve its global partners.
Trademarks
All trademarks are the property of their respective owners.
###