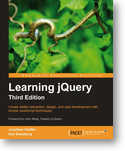 Birmingham, UK (PRWEB) October 07, 2011
Packt is delighted to announce Learning jQuery, Third Edition, its latest addition to its series of jQuery books aimed at developers and designers interested in harnessing the power of jQuery for adding interactions and animations to their pages. Written by Jonathan Chaffer and Karl Swedberg this is the newest edition of the first book on jQuery, and takes readers through many detailed, real-world examples, even equipping them to extend the jQuery library itself with their own plug-ins.
jQuery is a fast and concise JavaScript Library that simplifies HTML document traversing, event handling, animating, and Ajax interactions for rapid web development. jQuery is designed to change the way JavaScript is written.
Learning jQuery, Third Edition starts off with an introduction to jQuery, showing users how to write a functioning jQuery program in just three lines of code. Readers will learn to add impact to their actions through a set of simple visual effects and will be able to create, copy, reassemble, and embellish content using jQuery's DOM modification methods. Even if previous attempts at writing JavaScript have left one baffled, this book will guide the reader past the pitfalls associated with AJAX, events, effects, and advanced JavaScript language features.
Developers will learn how to use selectors in a variety of ways to get anything they want from a page and will be able to make things happen on their webpages with events. The book shows how to add flair to their actions with a variety of animation effects and the new features available in jQuery 1.6. The book takes the reader through each of the core concepts of the jQuery library, building an overall picture of its capabilities, also covering more advanced examples and techniques.
With plenty of examples, this book is for web designers who want to create interactive elements for their designs, and for developers who want to create the best user interface for their web applications. Basic JavaScript programming and knowledge of HTML and CSS is required. No knowledge of jQuery is assumed, nor is experience with any other JavaScript libraries. This book is out now and available from Packt. For more information and to grab a copy, please visit: http://www.packtpub.com/learning-jquery-for-interaction-design-web-development-with-javascript/book
About Packt
Packt Publishing is a modern, innovative publishing company that provides print books, eBooks, and cloud-based library offerings. Packt's books and publications share the experiences of fellow IT profes-sionals in adapting and customizing today's systems, applications, and frameworks. Their solutions-based books give readers the knowledge and power to customize the software and technologies they're using to get the job done. For more information, please visit http://www.PacktPub.com
###