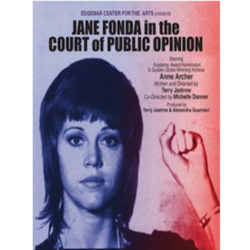 Santa Monica, CA (PRWEB) October 05, 2011
Academy Award® nominee and Golden Globe® winner Anne Archer, returns to the stage to star in "Jane Fonda in the Court of Public Opinion" at the Edgemar Center for the Arts in Santa Monica.
Written and directed by Terry Jastrow, the new play tells the true story of America's most famous, controversial and effective anti-war activist. "Jane Fonda in the Court of Public Opinion" is being developed in a workshop presentation, and opens for its first public performance on October 8, 2011 at Edgemar Center for the Arts in Santa Monica.
The play features Terrence Beasor, Robert Foster, Mark Gadbois, James Giordano, Jonathan Kells Phillips, Chauntae Pink, Ben Shields, Don Swayze, Jim Tooey and Steve Voldseth.
Based on a little-known event which occurred in Waterbury, Connecticut on June 18, 1988, where Fonda confronted a room full of hostile war veterans who were boycotting the announced filming of her movie "Stanley & Iris" (co-starring Robert De Niro) as a forum to surface many controversial and polarizing issues that had festered for years regarding Fonda's activism during the Vietnam War.
What is the truth about Jane Fonda's anti-war activism? Who are the people who oppose her activities so vigorously, and why are they so angry even to this day? What did she actually do? And why did she do it?
For the first time, see and hear the true story of what happened as told by an impartial writer whose intent is to tell the accurate and balanced story of what Jane Fonda did so people will know the facts and can formulate their opinion accordingly.
When: Previews October 5-7, 2011
Opens Saturday, October 8, 2011
Show times: Friday and Saturday at 8 p.m.
Sunday at 2 p.m. and 7 p.m.
Location: Edgemar Center for the Arts
2437 Main Street
Santa Monica, CA 90405
Admission: $34.50
Tickets: (310) 392-7327
Online: Edgemar Center for the Arts http://edgemarcenter.org/events/289
Anne Archer is best known for her starring roles in movies such as Fatal Attraction, Patriot Games, A Clear and Present Danger. Ms. Archer returns to the stage after receiving rave reviews for her provocative portrayal of Mrs. Robinson in The Graduate at the Gielgud Theater in London's West End. she has also enjoyed success in the theater starring in the Off Broadway production of A Coupla White Chicks Sitting Around Talking, Les Liaison Dangereuses at Williamstown Theatre festival, The Poison Tree at the Mark Taper Forum, The Vagina Monolgues in Los Angeles.
Writer-director Terry Jastrow is the winner of 7 Emmy Awards ® as a producer/director of coverage of the world's biggest events, including the Olympic Games, Super Bowl, Indianapolis 500, U.S. Open golf championship, Carnival in Rio de Janeiro, and more. Mr. Jastrow conducted comprehensive research regarding Fonda's activities, which included interviews with many war veterans, especially of the Vietnam War and a trip to Hanoi retracing Fonda's steps using her same guides and interpreters to learn and understand exactly what happened.
Michelle Danner co-directs. The founder and artistic director of Edgemar Center for the Arts, she recently directed the feature film Hello, Herman, starring Norman Reedus (True Blood) and Mexican film star Martha Higareda.
Press Contact:
Phil Sokoloft
Tel: 626-683-9205
Email: showbizphil(at)sbcglobal(dot)net
###