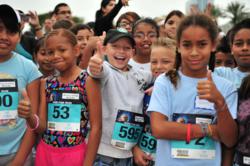 Most people don't know that kids get arthritis too.
Long Beach, CA (PRWEB) October 06, 2011
An estimated 25,000 people will be taking to the streets of Long Beach for the Long Beach International City Bank Marathon this weekend. On Saturday, October 8, the marathon will host the Arthritis National Research Foundation's "Kids Get Arthritis Too" awareness program at the Aquarium of the Pacific Kids Fun Run. Over 2,000 children ages 6 to 12 will participate, some of which have juvenile arthritis.
As part of the festivities from 9:00 am to noon, kids and their families will be showing support by wearing colorful wristbands and temporary tattoos that say, "Kids Get Arthritis Too" and CureArthritis.org.
Juvenile arthritis (JA) afflicts 300,000 American children under the age of 18 and for many their JA symptoms continue into adulthood. These children spend their days in the hospital and doctor's office instead of the playground.
Saturday's Aquarium of the Pacific Kids Fun Run is the perfect venue to increase awareness about juvenile arthritis.
The Arthritis National Research Foundation is based in Long Beach and provides arthritis research grants to scientists across the country. Each year they fund a juvenile arthritis research project called The Kelly Award, in honor of inspirational ANRF board member and JA advocate, Kelly Rouba.
"Most people don't know that kids get arthritis too," said ANRF President Kevin Donohue. "It can be extremely serious in children, causing damage to growth plates, disfigurement and even blindness. Research is the key to finding new treatments and a cure," he added.
The public is invited to this special event for free family photos and giveaways for the kids. ANRF has a program in which everyone in any kind of race – fun, bike, swim, triathlon – anywhere in the country can participate and support arthritis research called "Racing for a Cure." Visit http://www.curearthritis.org for more information on juvenile arthritis, the Racing for a Cure program and how you can help.
Since 1970, the Arthritis National Research Foundation, a tax deductible charity based in Long Beach, CA, has supported outstanding young scientists who have become innovators and leaders in the field of rheumatic disease research, autoimmunity and inflammation. From the discovery of TNF to genes involved in lupus, their research accomplishments have made an impact. ANRF's approach is to fund the next generation of researchers to encourage their continued commitment to research in arthritis and related diseases. These scientists, supported by ANRF funds, will lead the scientific charge for a deeper understanding of the genetics and molecular mechanisms of the immune system and autoimmune diseases. This new understanding, we believe, will provide the scientific facts and key information to develop new therapies that can alleviate the suffering of patients with arthritis and related diseases. To help support Arthritis Research you can make online donations on their website.
91 cents of every dollar donated is placed into research programs.
###