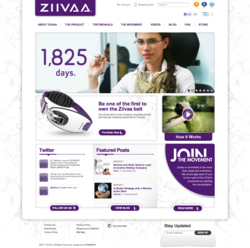 "Ziivaa is revolutionary," says DFM President Stephen Barker. "We are extremely proud to contribute to its success by helping build their online presence."
Sarasota, FL (PRWEB) October 07, 2011
Digital Frontiers Media (DFM) in conjunction with international design firm ROBRADY, has finished building the corporate website for Ziivaa, whose non-medical device is worn to alleviate menstrual pain.
"Ziivaa is revolutionary," says DFM President Stephen Barker. "We are extremely proud to contribute to its success by helping build their online presence."
"DFM's ability to provide online solutions was critical to the success of this launch," said ROBRADY President Rob Brady. "ROBRADY designed the site and then turned to DFM's expertise in Drupal to construct it to our exacting standards".
Drupal, a web-coding platform originally created for building online communities, is uniquely suited for Ziivaa's needs. Along with e-commerce, video and social networking capacity, Drupal allows the company greater access and control over the site, allowing Ziivaa.com to keep pace with its growing membership.
Digital Frontiers Media (DFM) is a multimedia production company based in Sarasota, Florida that specializes in projects where technology, content and interactivity intersect. DFM develops eye-catching interactive media, national attention-getting websites, and custom programming services, including Augmented Reality (AR) and mobile apps. DFM specializes in the "freakishly brilliant" Drupal open source Content Management System (CMS) and building projects that draw upon multiple disciplines to provide superior user experiences.
President Stephen Barker founded DFM in 2007 to provide cost-effective excellence to web and interactive multimedia clients. Stephen was named one of 2010's "25 People to Watch" in the July issue of Biz941 magazine. Stephen holds a Master's degree from 2006 for his work in Augmented Reality (AR) and Tangible User Interfaces (TUIs) and has over 5 years of experience in these technologies along with building physical computing systems using sensors, video analysis, servos, and other novel input-output devices. DFM can be found online at digitalfrontiersmedia.com.
ROBRADY is a multi-disciplinary product design and development studio that offers its multinational client base - including General Electric, Mercedes-Benz, Dell Computers, Segway, AT&T, Merial, Vectrix and Yamaha - progressive industrial design; mechanical design and product engineering; graphics, packaging, GUI, web, and eCommerce design; market research; brand and retail development; complete rapid prototyping; and production program management. ROBRADY design stresses a comprehensive speed-to-market plan by collaborating to identify the greatest areas of opportunity and producing profitable product solutions and delivers design, production, and capital solutions to its clients in support of their research-to-reality philosophy.
###