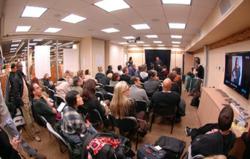 NYC, NY (PRWEB) October 11, 2011
B&H Photo Video is excited to share with the Photography industry the "How to Market Your Photography" event from 500px.
Being an artist has never been easy, especially in today's fast-paced digital age. Photographers can't just be artists anymore; they have to be managers, accountants, marketers, assistants, web developers, and their own mean, lean, shutter-clicking machines.
Get Smart on How to Market Your Photography at B&H Photo Event Space
Monday, October 24, 2011 | 1:00 PM - 3:00 PM
Speakers: Oleg Gutsol, President and Technical director of 500px, Inc
Event Type: Photography
Skill Level: Basic
500px started their company to help photographers get greater exposure, reduce some of the marketing headaches, and let creatives concentrate on what they do best. They love seeing amazing work and equally love promoting it! A sense of inspired community is also important to 500px.
500px believes that the way forward is through presenting, discussing, supporting, and socializing with like-minded people. For photographers, 500px is the connection to a whole world of people passionate about images. It's the place to upload their work and create a beautiful portfolio, interact with a talented and dedicated community, manage their own blog, vote on photos, and have their work reviewed in return. 500px promotes all the best work through a variety of social media, giving photographers the exposure they need to move forward.
Even those who are not photographers will benefit from 500px. They can follow the photos of their favorite photographers, create lists of images that amaze them, express their opinions in comments and by votes, and perhaps find a photographer for hire. There are many possibilities that can be enjoyed exploring with the founders of 500px!
About B&H Photo Event Space
The B&H Event Space is a leading-edge learning environment designed to educate, inspire, and cultivate a community of like-minded individuals, who aspire to be great at what they love to do. By offering free workshops and lectures in photography, video and pro audio, it is our mission to help those in this community achieve their goals.
The B&H Event Space partners with major photography manufacturers in the imaging industry and academic institutions in the arts to produce a wide range of workshops and seminars covering a vast spectrum of topics. B&H "Mavens," employees who are experts on a specific topic, teach classes in the Event Space. On Sundays, high-profile and emerging photographers, as well as industry professionals, deliver inspirational lectures about their work and spin their personal tales of success.
The B&H Event Space is more than a physical space. We feature event videos online that are also available through podcasts, so that photographers can view them at home or while traveling.
For all photography, video and pro audio industry news updates at B&H Facebook Fan page.
Follow B&H Photo Video at Twitter
B&H is pleased to offer an astonishing array of free seminars and inspirational lectures by talented pros from around the world. You can self-register online to guarantee a seat.
The B&H Event Space is located on the second floor of our SuperStore, at 420 9th Ave, New York, NY 10001.
About B&H Photo Video
As the world's largest source of photography video and audio equipment, B&H Photo-Video is known worldwide for their attentive, knowledgeable sales force, and excellent customer service, including fast, reliable shipping. Visitors to the website can access a variety of enlightening articles and educational videos. B&H has been satisfying customers worldwide for close to 40 years.
###