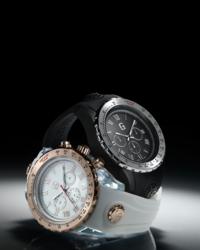 "Time is the most valuable thing that anyone can possess, certain seconds can change anyone's life and we are trying to honor those moments and cherish them here… with these athletes, in all of their glory."
Anthony Giantto, CEO of the Giantto Group
Los Angeles, California (PRWEB) October 07, 2011
The GAME TIME campaign will feature distinctive athletes throughout the NFL and unique timepieces from the GIANTTO collection. A new athlete will be featured monthly, with photos and a short Q&A including interesting facts and insight on the personal meaning of GAME TIME, and most significant instants each player has been through in their lives. Several athletes that will be featured include Buffalo Bills Terrence Wheatley, New Orleans Saint Garrett Hartley, New Orleans Saint Roman Harper, New England Patriot Ron Brace, St. Louis Rams Craig Dahl, and several others. A percentage of sales from the GAME TIME campaign and/or several timepieces will also be donated to a Charity of choice for each athlete, or to their individual foundations.
The GAME TIME campaign will begin in October with its release of the first featured athlete. Athlete features will be posted online on http://www.facebook.com/Gianttowatches, http://www.facebook.com/BGSportsPR as well as on each athlete's website, Twitter, and Facebook pages. The Game Time campaign really represents an inspirational meaning and symbolizes the time to do something more, make a change, or the time to step it up…STEP UP YOUR GAME.
"I think this is an incredible opportunity to bring together great athletes and powerful companies for a wonderful cause. We want to inspire people to do better and be better! To make the most of our time because it is so precious," Brittany Gilman, President BG Sports
The Giantto Group, a prominent LA based Jewelry Company specializing in original custom jewelry and exclusive timepieces, launches and expands the entire Giantto Timepiece collection worldwide. With continued success and more than positive reaction to the collection, the entire Giantto group itself expands and transforms into an array of artistry and lifestyle that transcends typical industry standards.
BG Sports, also LA based, a Sports Marketing, Public Relations, and Management Agency represents Professional athletes throughout the world. BG Sports focuses on individualized, unparalleled service to achieve each clients greatest level of success.
#GAMETIME
For further information on Giantto, please visit http://www.giantto.com. Or call 1-877-GIANTTO.
Media Contact for the Giantto Group Taleen G. t:1-818-486-1211 taleen(at)giantto(dot)com
For further information on BG Sports, please visit http://www.BGSportsPR.com
###