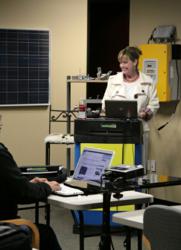 Solar...it's a blast!
Murrieta, CA (PRWEB) October 06, 2011
Kelly Smith, of Ambassador Energy will speak at METALCON International, being held this month, October 11th through the 13th at The Georgia World Congress Center in Atlanta, with 800 booths showcasing a broad range of metal construction products and peripherals. Within the industry, it is considered, as METALCON states, "The One Event for Metal Construction Products, Technologies and Solutions".
Throughout the three-day expo, training seminars and special sessions for attendees will be conducted. Ms. Smith's seminar will take place Wednesday, October 12th from 10:15AM until 11:45AM. She will enlighten attendees on the benefits and challenges of adding a solar PV offering to contractors' current portfolios of services and products. She will highlight reasons to believe that the renewable energy industry is strong and will remain a dynamic growth market for many years to come. She will also be candid about its being a highly technical offering and why it is not a fit for every contractor. Her goal is to be honest, concise and entertaining.
Smith leads her team at Ambassador Energy, where they train contractors who become a part of their Authorized Agency program. In addition, Ambassador Energy is ISPQ certified, as one of seven companies in California qualified to offer a five-day training course and test for the NABCEP EL accreditation.
"We train contractors from all over the country each month at our offices in Southern California," said Kelly. "It is our responsibility to not only teach them how to install, but to train them on proper selling strategies, which include addressing roof condition, roof warranties and subtle nuances, such as appropriate Returns on Investments and Rate of Returns for the end-users. We always say that the installation itself is the easy part. It's the stuff that comes before it that is difficult and often elusive. At the end of the day, though, it is an extremely exciting and dynamic industry to be a part of. In fact, it's a blast!"
In addition to teaching her seminar 'Making Solar Your Business', Ambassador Energy will have a booth at the event. They welcome you to visit them at Booth 1846 in the Solar Bay area of the show.
About Ambassador Energy
Ambassador Energy (AE) is a solar training and distribution company, with 81 Authorized Agencies operating in 17 US states. AE is ISPQ certified and employs two NABCEP Certified Installers (Fulgham 031310-74 and Kelso 031310-124) and one NABCEP Certified PV Technical Sales professional (Fulgham 012911-35). AE provides a turnkey, consolidated platform of renewable energy training, support, product-agnostic distribution and evolving mindshare to a nationwide network of Ambassador Energy Authorized Agents, who are contractors and entrepreneurs augmenting their portfolios by offering renewable energy solutions to their clients.
Ambassador Energy offers their Agency program to qualified candidates. New Agency Training is offered approximately once every four to six weeks.
###